DanielaRuahFans
Celebrating 14 Years Online
The "NCIS: Los Angeles" Season 14 DVD box set was just released in the USA and ALL the special features are now available online.
All Special Features in this collection, include:
• One Last Snapshot
• To Old Friends and New Beginnings
• A Killer Crossover
• NCIS:LA S14E05 Flesh and Blood – Deleted Scene
• NCIS:LA S14E06 Glory of the Sea – Deleted Scene
• NCIS:LA S14E17 Maybe Today – Deleted Scene
• NCIS:LA S14E18 Sensu Lato – Deleted Scene
• NCIS:LA S14E20 New Beginnings – Deleted Scene
You can pre-order NCIS: Los Angeles fourteenth season DVD, as well as the completed series. Both titles will be released on September 5, 2023.
The season 14 DVD includes every thrilling episode, along with exclusive special features including never-before-seen deleted scenes and more!
The Complete Series compiles all 14 seasons and 320 episodes of the hit drama on 81 discs that are packed with special features.
You can pre-order the season 14 DVD HERE and the completed series HERE, or by clicking on the images below.
In April, an interview with Daniela was aired on "Alta Definição," hosted by Daniel Oliveira. The actress spoke about her personal life, including the day she had to put down her dog Ash and when her father suffered a stroke. She also revealed details about her children and husband and talked about her projects – "NCIS: Los Angeles," "Os Traidores" (on SIC in Portugal), and her newfound passion for directing. You can watch the complete translated interview below.
April 19, 2023   admin  
Leave a Comment
Host
,
Imprensa Portuguesa
,
Interviews
,
NCIS Los Angeles
,
netflix
,
Os Traidores
,
portugal
,
Portuguese Press
,
Rabo de Peixe
,
Turn of the Tide
Daniela Ruah: "Tive mesmo de construir uma personagem para apresentar 'Os Traidores"
A NiT entrevistou a célebre atriz portuguesa que agora apresenta o programa de domingo da SIC.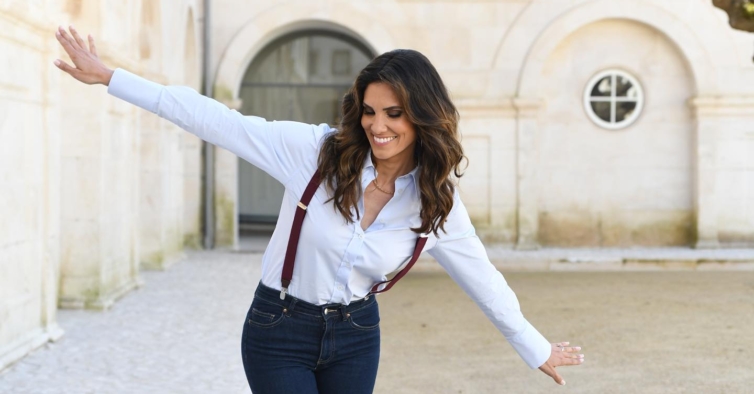 Entre 2009 e 2023, Daniela Ruah foi Kensi Blye em 320 episódios de "NCIS: Los Angeles". A atriz portuguesa, que hoje tem 39 anos, afirmou-se como um rosto conhecido na televisão norte-americana — mas também em canais de muitos outros países, já que a série era transmitida por todo o mundo.

Desde 9 de abril, porém, que ocupa as noites de domingo da SIC. Daniela Ruah é a apresentadora de "Os Traidores", um programa em que os concorrentes competem em desafios por um prémio monetário final — mas pelo meio dos "fiéis" encontram-se três "traidores" que os vão eliminando aos poucos.

Este foi o pretexto para a NiT falar com a atriz sobre o novo projeto e a fase da carreira que atravessa neste momento.

Quando lhe perguntaram se queria apresentar "Os Traidores", o que lhe agradou mais à partida?
Eu já tinha visto os programas noutros países, conhecia o formato, já me era familiar, portanto não foi preciso explicar-me muita coisa. E obviamente gosto de trabalhar em coisas que também gosto de ver [risos]. Não é para me ver a mim própria, atenção, mas é só porque é o género de programa que gosto de ver. E esta apresentadora está em personagem também. Portanto, pude incorporar a parte da apresentação mas também a minha vertente de atriz. Porque quem já viu o programa vê perfeitamente que não é o meu feitio diário que ali está, mas sim uma personagem que se enquadra no tom do formato.

Essa é uma perspetiva interessante, porque uma pessoa quando está a apresentar também desenvolve uma certa persona que é diferente de como é na vida real, não é?
Depende do projeto, lá está. Por exemplo, na Eurovisão ou quando faço o Super Bowl Greatest Commercials — um programa que faço aqui antes da Super Bowl — isso sou mais eu no sentido em que sou mais brincalhona, é um feitio meu mais genuíno dentro da postura de apresentadora. Agora, aqui em "Os Traidores", tive mesmo de construir uma personagem. Fomos observando os apresentadores dos outros países e existe uma linha de continuidade.

Foi um desafio construir essa personagem para este programa?
Não foi um desafio porque achei logo a ideia divertida. As próprias falas e aquilo que tinha de memorizar — claro que houve algumas coisas improvisadas porque naturalmente íamos interagindo com os concorrentes —, mas o próprio tom da escrita foi tão claro… E depois de ter visto vários episódios dos outros países, foi fácil entrar nesta personagem, foi muito claro desde o princípio. E depois foi fácil porque eu queria este desafio, era uma coisa completamente nova, que nunca tinha feito. Nunca tinha misturado a representação com a apresentação e por isso é que também aceitei o desafio, porque achei giro. LER MAIS
DANIELA RUAH: AS SAUDADES DOS FILHOS, 'OS TRAIDORES' E O FUTURO
O que te cativou mais neste formato?

Foi o desafio de nunca ter apresentado um programa assim, que mistura um formato com guião e também a vertente de 'reality'. E muito menos um programa que requer esta quantidade de dias de gravação e as longas horas.

Já tinha visto o formato britânico. Vi alguns episódios do australiano, também dá nos Estados Unidos. Já tinha a noção do que é que este programa ia incorporar. E fiquei com bastante interesse porque lá está, é um programa que eu também gosto de ver.

O programa junta mistério, estratégia e desafios. Uma mistura que não é muito comum na televisão portuguesa. Com que mentalidade é que entraram os concorrentes?

Bastante aberta, já que nem todos tinham visto o formato de outros países. Alguns entraram completamente cegos. Quando os entrevistámos no primeiro programa, a maior parte deles disse que estava à procura de uma aventura.

Mas o programa não é só mistério. Acabou por ser uma ligação entre seres humanos todos diferentes, de faixas etárias e profissões diferentes, que se uniram imenso ao longo do jogo e que criaram laços de amizade palpáveis.

Acho que o público se vai relacionar muito com eles, vai acabar por se apaixonar pelos concorrentes. Eu também me apaixonei por todos eles.

Quem é que se dava melhor neste programa: tu ou a Kensi? [A personagem de Investigação Criminal Los Angeles]

[Risos] Tanto uma, como a outra. As qualidades [que partilhamos] para este formato são as mesmas: gostar de aventura e de não haver maldade, mas sim diversão na procura dos traidores.

Como é que foi feita esta gestão de tempo e família, entre viveres em Los Angeles e gravares em Portugal?

Foi planear as datas com o meu marido. Os meus filhos ainda estão na escola e entraram agora em férias da Páscoa. Vou perder os primeiros dias das férias deles, mas têm duas semaninhas. Portanto, ainda vou poder aproveitar bastante.

Acabei de gravar a última temporada de Investigação Criminal Los Angeles e consegui conciliar com a SIC. Vim só mesmo para fazer isto, isto não são as minhas férias. Ficaram lá eles e eu vou voltar e vou abraçar os meus filhotes. Já estou cheia de saudades.

O que se segue? Realizaste um telefilme para a RTP e seis episódios de 'Investigação Criminal Los Angeles'. É esse o caminho que se segue?

É um caminho paralelo ao da representação. Estou a tentar também entrar por um caminho de produtora executiva de alguns projetos, uns meus, outros não. Tenho aqui três trilhos muito interessantes. Eu sempre disse que qualquer pessoa nesta indústria poderia criar o seu próprio trabalho e não ficar à espera que oferecessem um. E então, estou a seguir os meus próprios conselhos.