DanielaRuahFans
Celebrating 11 Years Online
NCIS: LOS ANGELES
(2009/2020 • DRAMA / ACTION)
Daniela as
Kensi Marie Blye
Status: On Hiatus
Sundays 9/8c, only on CBS
Summary:
NCIS: Los Angeles is a drama about the high-stakes world of a division of NCIS that is charged with apprehending dangerous and elusive criminals, who pose a threat to the nation's security. 
More Information | IMDB | Official | Photos
A ESPIA 
(2020 • DRAMA / THRILLER)
Daniela as
Maria João Mascarenhas
Status: NO AR (Portugal)
Quartas-feiras às 21h30, na RTP1
Sinopse:
"Num país onde as luzes nunca se apagam, uma mulher da alta sociedade está disposta a tudo para salvar a sua pátria de uma invasão estrangeira". 
More Information | IMDB | Official | Photos
LUSO
(2021 • DRAMA/ACTION)
Daniela as
Maria Francisco
Summary:
A Portuguese child, abducted by slave traders, will fight in the American Revolution to win his freedom, and the right to be with the woman he loves.
Based on a true story.
More Information | IMDB | Official | Photos
Listed at:
Guia de Fansites Portugal
Celebrity Link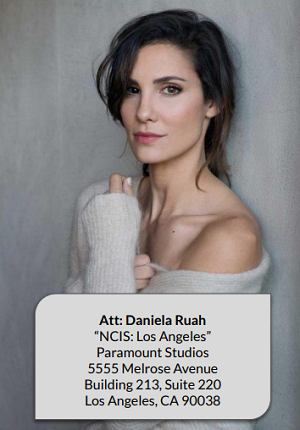 Original Launch (webs.com): September 21st, 2009
Relaunched: September 25th, 2012
Site version: 2.0
Maintained by: Ana
Hosted by: Flaunt
Designed by: Never Enough Design
Online:
Visitors:
(+298961 visitors since Sept. 21st 2009 on webs.com)
Contact: Email
Archive for the 'Advertising' Category
A Academia Portuguesa de Cinema lançou uma campanha a apelar ao público para que regresse às salas de cinema e apoie a produção nacional, que vive um período difícil, face à paragem forçada do setor, devido à covid-19. O apelo está gravado num vídeo protagonizado por actores, realizadores, produtores e outros profissionais do sector. Entre […]
---
You voted—and a winner was crowned 🏆 Find out which Super Bowl commercial was named the all-time funniest at the video below. Click the image below to watch the full video. Source: CBS
---
Last Thursday, Daniela Ruah traveled to Atlanta to shoot the 2019 CBS special "Super Bowl Greatest Commercials" alongside Boomer Esiason, at the Mercedes Benz Stadium, home of this year´s "Super Bowl" great final. Take a look at the behind the scenes from the shoot in the gallery link (better quality photos coming soon). GALLERY LINK […]
---
During a Facebook Live today, Daniela Ruah presented her new partnership with FabFitFun, a beauty, wellness, fitness and fashion company, dedicated to raising money for women fighting breast cancer. Products offered for sale at www.fabfitfun.com are for sale only in the United States and Canada and all prices are quoted in U.S. dollars. Check all […]
---
Foi para o ar esta tarde uma nova entrevista com Daniela Ruah no "Fama Show". Como embaixadora da marca, a actriz portuguesa esteve presente num showroom da DVINE. Saibam mais sobre esta marca de beleza 100% portuguesa, aqui: www.dvineskin.com
---
Daniela Ruah, 34, é uma das atrizes portuguesas mais reconhecidas internacionalmente, mas foi por uma marca de cosméticos 100% nacional que escolheu dar a cara. De passagem por Lisboa, a estrela da série 'Investigação Criminal – Los Angeles' aproveitou para apresentar a DVINE, marca da qual é embaixadora, cujos produtos têm uma fragrância exclusiva, inspirada […]
---
"Super Bowl's Greatest Commercials 2018" – Boomer Esiason, Daniela Ruah and Kevin Frazier host a countdown of the best commercials from past Super Bowls.
---
Vejam a entrevista de Daniela Ruah no programa "Fama Show" desta semana, nos bastidores da produção fotográfica para a nova campanha publicitária da marca "DVINE Douro Beauty Essence".
---