DanielaRuahFans
Celebrating 11 Years Online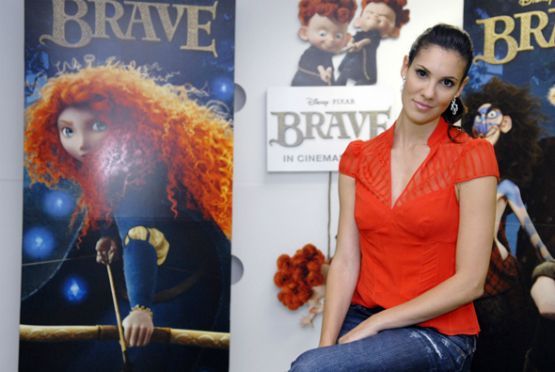 Vera Valadas Ferreira | vferreira@destak.pt
«Se fosse hoje, faria o mesmo, mas já precisava de mais coragem», admite Daniela Ruah sobre a aposta nos EUA. A estrela da série 'NCIS: Los Angeles' dá a voz à princesa de 'Brave: Indomável'. O filme estreou nas salas de cinema portuguesas a 15 de Agosto.
Brave: Indomável não é a sua estreia no universo dos filmes de animação (note-se que já tinha feito dois filmes de animação, "Os Robinsons" e "Carros" da Disney), mas marca a sua primeira protagonista. O que a levou a aceitar o desafio?
Em primeiro lugar por ser da Pixar/Disney e acho que até hoje não houve nenhum filme que não fosse bom e que não tivesse sucesso. Que não fosse divertido de ver e com músicas que decorámos e gostamos. A própria personagem tinha muito a ver comigo: aquele lado aventureiro, um bocado Maria-rapaz, que sabe o que quer fazer. Identifiquei-me com essa parte. Já tinha noção de que queria fazer o filme mas depois de ter visto o trailer – o tipo de imagens, aventuras e estética – disse logo que sim.

Sempre a encantaram as histórias de princesas e guerreiros?
Sim, mais em miúda do que agora, claro. Mas hoje em dia conseguem fazer com que as personagens sejam tão humanas, não só na forma de falar como na própria estética das personagens, na parte física, no movimento do cabelo, no olhar, e isso dá-me mais interesse porque parece que estou a ver actores verdadeiros a representar.

Qual foi a maior dificuldade?
Foi sem dúvida a parte da linguagem porque, os desenhos animados são tão bem feitos que agora os movimentos das bocas coincidem exactamente com as palavras em inglês [técnica de lip sync]. Quando dobramos temos de ter a certeza que a frase em português acaba na mesma vogal que a palavra em inglês, de modo a acabar igualmente com a boca aberta ou fechada. E isso é o maior desafio, até porque temos de ter a certeza que o português é correcto e corrente. Isso é difícil de fazer.
Fonte: Destak
Por Luís de Freitas Branco
O salto megalómano da jovial Sara dos "Jardins Proibidos" para a destemida e sexy Kensi Blye de "Investigação Criminal – Los Angeles" é um acto quase inaudito neste Portugal dos pequeninos. Aos 29 anos, Daniela Ruah encontrou tempo para dar voz portuguesa a Merida, a primeira protagonista feminina de um filme da Pixar. "Brave – Indomável" está nas salas portuguesas desde 15 de Agosto.
Quem é Merida?
É uma rapariga de 18 anos super rebelde e aventureira. Os pais querem que ela se case com os pretendentes que lhe apresentam e ela não quer. Não está preparada para casar e quer aventurar-se. Nesse processo acaba por entrar em grande conflito com a mãe. O conflito entre a mãe e a filha guia o resto do enredo.

É a sua primeira aventura em animação? Usa a sua voz normal?
Já tinha dado voz a duas personagens anteriormente, mas eram personagens muito mais pequenas, não eram a protagonista. Na Merida usei a voz talvez um pouco mais aguda. A personagem é escocesa e a própria musicalidade do inglês escocês é totalmente diferente do americano ou do inglês, eles realmente falam num tom muito mais agudo, como se todas as frases fossem uma pergunta. Foi difícil, impossível mesmo, passar isso para português porque também não fazia sentido parecer uma estrangeira a falar português.
Fonte: IOnline
Itunes Preview is giving us an exclusive and VERY spoilery (seriously, do not continue reading this if you don´t want to be completely spoiled) first look at what we can expect from NCIS: Los Angeles Season 4 upcoming episodes.
No telling which episodes will be showing which storylines, but no doubt about it, this is exciting stuff!
Read more here.