DanielaRuahFans
Celebrating 11 Years Online
NCIS: LOS ANGELES
(2009/2020 • DRAMA / ACTION)
Daniela as
Kensi Marie Blye
Status: On Hiatus
Sundays 9/8c, only on CBS
Summary:
NCIS: Los Angeles is a drama about the high-stakes world of a division of NCIS that is charged with apprehending dangerous and elusive criminals, who pose a threat to the nation's security. 
More Information | IMDB | Official | Photos
A ESPIA 
(2020 • DRAMA / THRILLER)
Daniela as
Maria João Mascarenhas
Status: NO AR (Portugal)
Quartas-feiras às 21h30, na RTP1
Sinopse:
"Num país onde as luzes nunca se apagam, uma mulher da alta sociedade está disposta a tudo para salvar a sua pátria de uma invasão estrangeira". 
More Information | IMDB | Official | Photos
LUSO
(2021 • DRAMA/ACTION)
Daniela as
Maria Francisco
Summary:
A Portuguese child, abducted by slave traders, will fight in the American Revolution to win his freedom, and the right to be with the woman he loves.
Based on a true story.
More Information | IMDB | Official | Photos
Listed at:
Guia de Fansites Portugal
Celebrity Link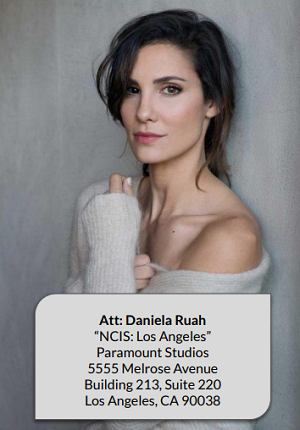 Original Launch (webs.com): September 21st, 2009
Relaunched: September 25th, 2012
Site version: 2.0
Maintained by: Ana
Hosted by: Flaunt
Designed by: Never Enough Design
Online:
Visitors:
(+298961 visitors since Sept. 21st 2009 on webs.com)
Contact: Email
Daniela Ruah, Maria João Bastos e Diogo Morgado são os protagonistas de "A Espia", a nova série da RTP que, esta sexta-feira, fez uma rodagem no Ateneu Comercial do Porto. A estreia está prevista para janeiro de 2020.
Vejam todas as fotos no link da galeria, abaixo:
GALLERY LINK:

Mini Series "A Espia"/"Twenty-Four Land" > Bastidores – Ateneu Comercial Do Porto, Junho 21 De 2019

Daniela Ruah durante as gravações da série "A Espia", no Porto
Texto: Sara Oliveira
Fotos: Leonel de Castro/Global Imagens
Antes de abraçar mais uma temporada de "Investigação criminal: Los Angeles", nos Estados Unidos, Daniela Ruah esteve no Porto a gravar a série "A Espia", que a RTP prevê estrear no início de 2020.

Uma produção que a trouxe com entusiasmo de volta à ficção nacional, onze anos depois de ter participado em "Casos de vida" na TVI, ainda antes de saltar para a ribalta além-fronteiras.

Entre Kensi, agente policial na produção americana, e Maria João, espia durante a II Guerra Mundial no projeto nacional, Daniela notou diferenças. Voltar falar em português perante as câmaras, "depois de estar escrito no papel, é fácil". "Mas quando sou eu que tenho de elaborar, por vezes, falta-me uma palavra ou outra. Quando passo muito tempo em Portugal e depois regresso aos Estados Unidos também acontece". "Há certas expressões que funcionam muito melhor em português, mas a minha linguagem de televisão e cinema é de uma americana e aqui usamos muitos estrangeirismos do francês. Tive de me habituar", acrescentou a protagonista.

Em "A Espia", Daniela Ruah reencontra Diogo Morgado e tem a oportunidade de trabalhar pela primeira vez com Maria João Bastos e Marco d"Almeida, com quem divide o protagonismo. "Encontrei de novo uma família em Portugal, dentro do plateau. De repente, chego aqui e em dois meses já me sinto em casa, outra vez, na produção nacional", confessou, já em contagem decrescente para a despedida. E, "para já, ao nível de ficção portuguesa ficamos por aqui. Ainda vou conseguir tirar três semaninhas de férias, mas em agosto começo a gravar a 11.ª temporada de "Investigação Criminal: Los Angeles"", lembrou, garantindo não saber o futuro de Kensi, a personagem que interpreta.




ANIVERSÁRIO DE CASAMENTO

Na Invicta, entre cenas, na passada quarta-feira, a artista celebrou cinco anos de casamento mais uma vez longe do marido, David Paul Olsen, que até tinha aterrado poucos dias antes em Lisboa. "Acho que em cinco anos só estivemos juntos duas vezes no nosso aniversário. São ossos do ofício, mas ele também trabalha na indústria e sabe como é. E nós somos românticos à nossa maneira. Prefiro comprar prendas quando vejo e acho que o meu marido vai gostar, não fico à espera um ano inteiro para lhe dar", revelou. O casal tem dois filhos, River Isaac e Sierra Esther, de quem é mais difícil para a atriz se separar.
Fonte: JN