DanielaRuahFans
Celebrating 11 Years Online
NCIS: LOS ANGELES
(2009/2020 • DRAMA / ACTION)
Daniela as
Kensi Marie Blye
Status: On Hiatus
Sundays 9/8c, only on CBS
Summary:
NCIS: Los Angeles is a drama about the high-stakes world of a division of NCIS that is charged with apprehending dangerous and elusive criminals, who pose a threat to the nation's security. 
More Information | IMDB | Official | Photos
A ESPIA 
(2020 • DRAMA / THRILLER)
Daniela as
Maria João Mascarenhas
Status: NO AR (Portugal)
Quartas-feiras às 21h30, na RTP1
Sinopse:
"Num país onde as luzes nunca se apagam, uma mulher da alta sociedade está disposta a tudo para salvar a sua pátria de uma invasão estrangeira". 
More Information | IMDB | Official | Photos
LUSO
(2021 • DRAMA/ACTION)
Daniela as
Maria Francisco
Summary:
A Portuguese child, abducted by slave traders, will fight in the American Revolution to win his freedom, and the right to be with the woman he loves.
Based on a true story.
More Information | IMDB | Official | Photos
Listed at:
Guia de Fansites Portugal
Celebrity Link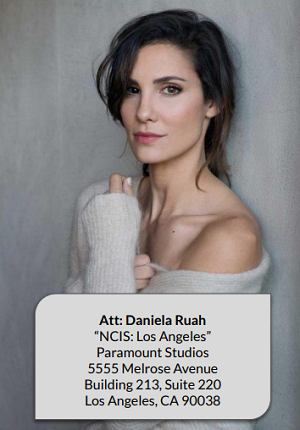 Original Launch (webs.com): September 21st, 2009
Relaunched: September 25th, 2012
Site version: 2.0
Maintained by: Ana
Hosted by: Flaunt
Designed by: Never Enough Design
Online:
Visitors:
(+298961 visitors since Sept. 21st 2009 on webs.com)
Contact: Email
Archive for the 'DVD Features' Category
The "NCIS: Los Angeles" Season 9 DVD box set was just released in the USA and, as usual, some of the extras included in the box set are now beginning to surface online. One of those extras is a deleted scene from Season 9's Finale, with a cute moment between "Kensi", "Deeks" and "Callen". You […]
---
We now have all the NCIS: LA Season 7 DVD deleted scenes, audio commentaries & extras available online, thanks to Alexis from purecraziness.tumblr.com! Thank you so much for yet again releasing these goodies for all the fans out there! 😉 You can download all these DVD specials HERE. The DVD specials have been divided into […]
---
CBS Home Entertainment and Paramount Home Media Distribution have today announced NCIS: Los Angeles – The 7th Season on DVD. Details and pricing aren't available yet, but here's the package art for this August 30th release. Agents of Change. Agents "G" Callen (Chris O'Donnell) and Sam Hanna (LL Cool J) ratchet up the action in […]
---
As we approach the end of another "NCIS: Los Angeles" season, here´s a look at the incredible behind the scenes and stunts that make it such a hit action show. Content snippet taken from the Season 6 french version DVD. NCIS: Los Angeles – Behind the scenes of Season 6 por DanielaRuahFans
---
Here are some videos from the NCIS Los Angeles Season 5 DVD special features. There are many others out there, made available by fans around the internet. These are just a small sample. Enjoy 😉 NCIS Los Angeles – Crafting Afghanistan por DENSIVEVOs
---
Thanks to Tumblr user purecraziness, we now have access to the NCIS Los Angeles Season 4 DVD Feature episode "Wanted" Audio commentary with Daniela Ruah & Eric Christian Olsen. You can download the mp3 file or simply listen to it here. Enjoy!
---
CBS/Paramount has announced today that NCIS: Los Angeles – The 4th Season is officially scheduled to be on DVD August 20th. Priced at $64.99 SRP, the set includes Audio Commentary Tracks and Featurettes titled "Un4gettable: Season 4 Of NCIS: Los Angeles," "Chris At The Helm," "Seeing Red," and "Red Over Wheels." Here's the finalized high-res […]
---
---