DanielaRuahFans
Celebrating 11 Years Online
NCIS: LOS ANGELES
(2009/2020 • DRAMA / ACTION)
Daniela as
Kensi Marie Blye
Status: On Hiatus
Sundays 9/8c, only on CBS
Summary:
NCIS: Los Angeles is a drama about the high-stakes world of a division of NCIS that is charged with apprehending dangerous and elusive criminals, who pose a threat to the nation's security. 
More Information | IMDB | Official | Photos
A ESPIA 
(2020 • DRAMA / THRILLER)
Daniela as
Maria João Mascarenhas
Status: NO AR (Portugal)
Quartas-feiras às 21h30, na RTP1
Sinopse:
"Num país onde as luzes nunca se apagam, uma mulher da alta sociedade está disposta a tudo para salvar a sua pátria de uma invasão estrangeira". 
More Information | IMDB | Official | Photos
LUSO
(2021 • DRAMA/ACTION)
Daniela as
Maria Francisco
Summary:
A Portuguese child, abducted by slave traders, will fight in the American Revolution to win his freedom, and the right to be with the woman he loves.
Based on a true story.
More Information | IMDB | Official | Photos
Listed at:
Guia de Fansites Portugal
Celebrity Link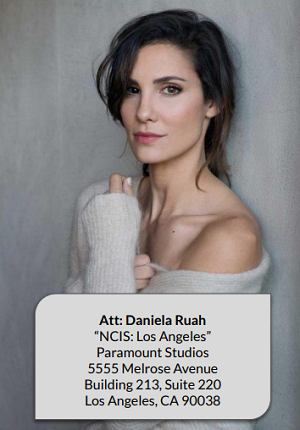 Original Launch (webs.com): September 21st, 2009
Relaunched: September 25th, 2012
Site version: 2.0
Maintained by: Ana
Hosted by: Flaunt
Designed by: Never Enough Design
Online:
Visitors:
(+298961 visitors since Sept. 21st 2009 on webs.com)
Contact: Email
December 22, 2018   admin  
Leave a Comment
Award Shows
,
daniela ruah
,
Documentary
,
Eurovisão 2018
,
Eurovision 2018
,
Festival Eurovisão da Canção 2018
,
Host
,
Interviews
,
Portuguese TV
,
Presenter
,
RTP
A RTP vai presentear os aficionados do Festival Eurovisão da Canção com um documentário sobre os bastidores da edição que decorreu em Lisboa. "All aboard! – Dentro da Eurovisão 2018", da autoria de Nuno Galopim e Miguel Pimenta, vai ser transmitido nos dias 27 e 28 de Dezembro às 21h00, logo a seguir ao Telejornal.
Uma edição que foi considerada como das melhores de sempre, o que nos deixa a todos muito orgulhosos! 🙂
Em "All aboard! – Dentro da Eurovisão 2018" mostra-se pormenores que "as pessoas não imaginam". Em dois episódios, este especial documentário leva-nos a conhecer a construção do palco, o impressionante trabalho de luz, os ensaios das apresentadoras (Catarina Furtado, Sílvia Alberto, Daniela Ruah e Filomena Cautela) e das canções concorrentes, a criação dos "postais" de apresentação dos artistas, o trabalho técnico de bastidores, num panorama que sai para lá da Altice Arena para lembrar também a cerimónia da Blue Carpet realizada no MAAT ou as tardes e noites de festa que o Eurovision Village proporcionou a todos na Praça do Comércio.

Nuno Galopim em entrevista ao Diário de Notícias sublinhou: "Com a vitória de «Amar pelos dois», ao estar escolhido Portugal para acolher a Eurovisão, resolvemos fazer um documentário para dar a conhecer a organização e os bastidores da Eurovisão. Durante os espectáculos tivemos equipas dedicadas a filmar o que havia para lá do que se via no ecrã. Tivemos equipas a filmar tudo e depois da Eurovisão fomos entrevistar a equipa de produção executiva, as apresentadoras, os moderadores das conferências de imprensa, para que elas contassem a história com as imagens", explica Galopim.

Outros momentos reveladores estão a cargo do autor da banda sonora, Luís Figueiredo, que a toca para explicar como concretizou a criação; e das apresentadoras que destacam alguns momentos divertidos. Por exemplo, Filomena Cautela explica como as entrevistas na green room, a área onde estão os artistas concorrentes, foram diferentes do habitual.

O documentário foi realizado pela mesma equipa que há um ano apresentou "Sem Fazer Planos do Que Virá Depois" sobre a remodelação do Festival da Canção e a vitória de Salvador Sobral em Kiev.

O resultado desse trabalho, em dois episódios de 50 minutos cada, é transmitido nos dias 27 e 28, depois do Telejornal, na RTP1.
Fonte: Diário de Notícias, RTP