DanielaRuahFans
Celebrating 11 Years Online
NCIS: LOS ANGELES
(2009/2020 • DRAMA / ACTION)
Daniela as
Kensi Marie Blye
Status: On Hiatus
Sundays 9/8c, only on CBS
Summary:
NCIS: Los Angeles is a drama about the high-stakes world of a division of NCIS that is charged with apprehending dangerous and elusive criminals, who pose a threat to the nation's security. 
More Information | IMDB | Official | Photos
A ESPIA 
(2020 • DRAMA / THRILLER)
Daniela as
Maria João Mascarenhas
Status: NO AR (Portugal)
Quartas-feiras às 21h30, na RTP1
Sinopse:
"Num país onde as luzes nunca se apagam, uma mulher da alta sociedade está disposta a tudo para salvar a sua pátria de uma invasão estrangeira". 
More Information | IMDB | Official | Photos
LUSO
(2021 • DRAMA/ACTION)
Daniela as
Maria Francisco
Summary:
A Portuguese child, abducted by slave traders, will fight in the American Revolution to win his freedom, and the right to be with the woman he loves.
Based on a true story.
More Information | IMDB | Official | Photos
Listed at:
Guia de Fansites Portugal
Celebrity Link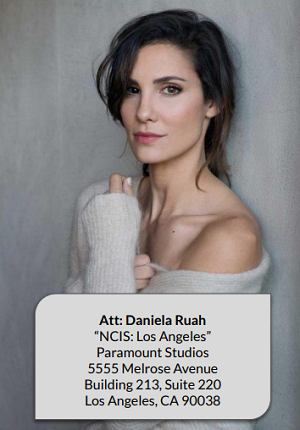 Original Launch (webs.com): September 21st, 2009
Relaunched: September 25th, 2012
Site version: 2.0
Maintained by: Ana
Hosted by: Flaunt
Designed by: Never Enough Design
Online:
Visitors:
(+298961 visitors since Sept. 21st 2009 on webs.com)
Contact: Email
May 17, 2018   admin  
Leave a Comment
Advertising
,
Ambassador
,
Behind The Scenes
,
Campaigns
,
daniela ruah
,
DVINE
,
DVine Woman
,
Events
,
Fama Show
,
Imprensa Portuguesa
,
Interviews
,
Magazines
Daniela Ruah, 34, é uma das atrizes portuguesas mais reconhecidas internacionalmente, mas foi por uma marca de cosméticos 100% nacional que escolheu dar a cara.

De passagem por Lisboa, a estrela da série 'Investigação Criminal – Los Angeles' aproveitou para apresentar a DVINE, marca da qual é embaixadora, cujos produtos têm uma fragrância exclusiva, inspirada na verdadeira essência do Douro, e nascida da pureza do primeiro Vinho do Porto de produção totalmente orgânica.

As clientes têm duas linhas à escolha, consoante as suas necessidades: Light Harvest, com fórmulas leves e multifuncionais, que previnem o envelhecimento, preserva a luminosidade da pele; e Gold Harvest, cuidados específicos focados na resolução dos sinais visíveis de envelhecimento, cujos produtos são caracterizados pelas fórmulas sumptuosas, infundidas por Puro Ouro, para uma radiância imediata e uma revitalização profunda.

Em conversa com a ACTIVA, Daniela revela como é a sua rotina de beleza, a diferença entre os cuidados com o rosto na casa dos 20 e dos 30, e por que motivo escolheu a DVINE para proteger a sua pele.

Confiram, abaixo, o video com a entrevista, os bastidores e as todas as fotos no link da galeria.
GALLERY LINK:
ACTIVA – Apresentação DVINE Com A Embaixadora Daniela Ruah – Lisboa, 17 Maio, 2018
ENTREVISTA:
BASTIDORES:
Fonte:
ACTIVA