Daniela Ruah Fans
Welcome Online
Welcome to the first unofficial Portuguese/English fan-site for the portuguese-american actress Daniela Ruah. She is currently starring in the worldwide famous CBS tv show NCIS: Los Angeles. We have no affiliation nor do we represent Daniela in any way. This is just a work of a fan. ENJOY!
Search
Daniela on Facebook
Fan Mail Address

Att: Daniela Ruah "NCIS: Los Angeles"
Paramount Studios 5555 Melrose Avenue
Building 213, Suite 220 Los Angeles, CA 90038
Scheduled Appearances
MCM Hannover Comic Con 2017 Meet Daniela Ruah & Eric Christian Olsen May 20-21 at Deutsche Messe

MCM London Comic Con 2017 Meet Daniela Ruah & Eric Christian Olsen May 27-28 at Excel London – Royal Victoria Dock
Current Projects
NCIS: LOS ANGELES
TV Show (2009-2017)
as: Kensi Blye
Airing Sundays at 8/7c, on CBS
Status: Currently airing Season 8
More Information | IMDB | Official | Photos EXCUSE

Short Film (2016)
as: Brenda
Status: Film Festival Circuit
More Information | IMDB | Official | Photos More
Next on NCIS: Los Angeles


S08E01 - "High-Value Target" - Sept. 25
S08E02 - "Belly of the Beast"- Sept. 25
S08E03 - "The Queen´s Gambit" - Oct. 2
S08E04 - "Black Market" - Oct. 16
S08E05 - "Ghost Gun" - Oct. 23
S08E06 - "Home is Where the Heart is"- Oct. 30
S08E07 - "Crazy Train" - Nov. 6
S08E08 - "Parallel Resistors"- Nov. 13
S08E09 - "Glasnost" - Nov. 20
S08E10 - "Sirens" - Nov. 27
S08E11 - "Tidings We Bring" - Dec. 18
S08E12 - "Kulinda" - Jan. 8
S08E13 - "Hot Water" - Jan. 15
S08E14 - "Under Siege" - Jan. 29
S08E15 - "Payback" - Feb. 19
S08E16 - "Old Tricks" - March 5
S08E17 - "Queen Pin" - March 12
S08E18 - "Getaway" - March 19
S08E19 - "767"- March 26
S08E20 - "From Havana With Love" - April 9
S08E21 - "Battle Scars" - April 23
S08E22 - "Golden Days" - April 30
S08E23 - "Uncaged" - May 7
S08E24 - "Unleashed" - May 14

Elite Affiliates

Listed at Guia de Fansites Portugal & Celebrity Link

Apply
FEATURED FANART
Star Portraits (wisewyn) | Wisewyn Art in Oil paintings
SITE INFO
Original Launch:
September 21st, 2009
Relaunched:
September 25th, 2012
Site version:
2.0
Maintained by:
Ana
Hosted by:
Flaunt
Designed by:
Never Enough Design
Online:

Hits:
(and +298961 hits since Sept. 21st 2009 on Webs.com)
Contact: Email

Fun fact: Three years before joining the cast of NCIS: Los Angeles, Daniela Ruah won Dancing With the Stars in Portugal, where she grew up. In this week's episode, she shows off her salsa skills when her character, agent Kensi Blye, goes undercover in a nightclub following a deadly shooting. We talked to the actress—who gave birth to her second child in September—about getting back on her dancing feet.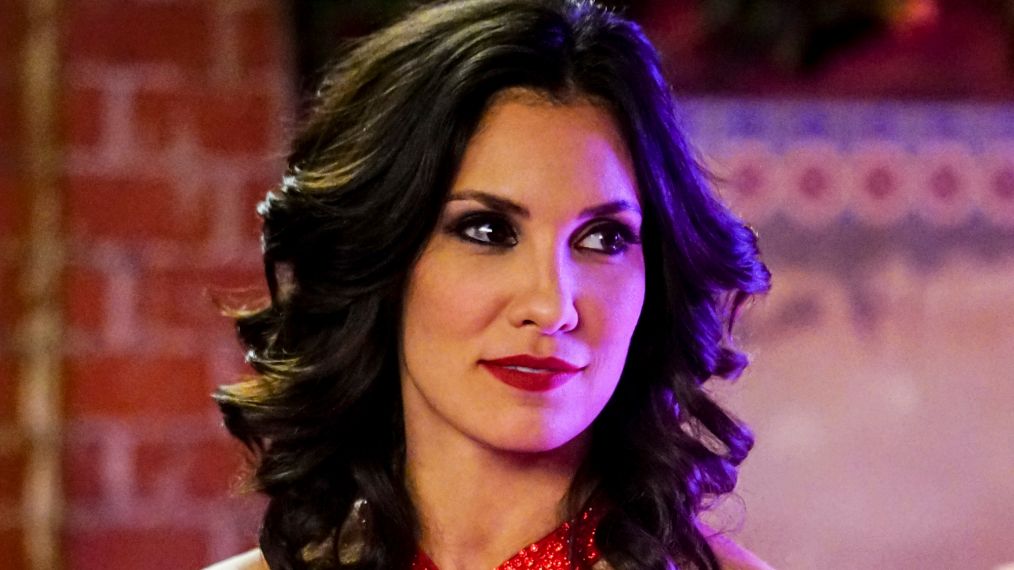 Did you know you were ready to boogie again?
I was very much in the dancing mood. Last year, they told me there was a salsa episode coming up for me. I'd just found out that I was pregnant, but it was too early to tell anyone. So I was like, "Oh my God, I'm so excited!" knowing I wouldn't be able to do it. But they pushed the episode back. So I'd been looking forward to the episode for this entire season. Rehearsing for it reminded me how happy I am when I dance. It's silly, but true.
When did you start dancing?
My mom put me in tap classes when I was 3 and that turned into going to ballet, and then we added jazz classes and modern dance. I did a little bit of everything but definitely not any Latin or ballroom dancing. That I learned on Dancing With the Stars.
How does Kensi account for her smooth moves?
As I understand it, she goes out dancing with her girlfriends Cat, Mindy, Mandy, Tiffany and Tiffany—those are their names!—on the weekend. It's a hobby.
What did your costars think?
Chris [O'Donnell] and LL [Cool J] came to the set at the end of the day and saw me in my little red dancey outfit and eyed me up and down going, "What's going to come of this?" But they were super supportive. Eric [Christian Olsen, who is also Ruah's real-life brother-in-law] was in the same boat—he knows how much I love it!
NCIS: Los Angeles airs Sundays at 8/7c, CBS.
Source: TV Insider