DanielaRuahFans
Celebrating 11 Years Online
NCIS: LOS ANGELES
(2009/2020 • DRAMA / ACTION)
Daniela as
Kensi Marie Blye
Status: On Hiatus
Sundays 9/8c, only on CBS
Summary:
NCIS: Los Angeles is a drama about the high-stakes world of a division of NCIS that is charged with apprehending dangerous and elusive criminals, who pose a threat to the nation's security. 
More Information | IMDB | Official | Photos
A ESPIA 
(2020 • DRAMA / THRILLER)
Daniela as
Maria João Mascarenhas
Status: NO AR (Portugal)
Quartas-feiras às 21h30, na RTP1
Sinopse:
"Num país onde as luzes nunca se apagam, uma mulher da alta sociedade está disposta a tudo para salvar a sua pátria de uma invasão estrangeira". 
More Information | IMDB | Official | Photos
LUSO
(2021 • DRAMA/ACTION)
Daniela as
Maria Francisco
Summary:
A Portuguese child, abducted by slave traders, will fight in the American Revolution to win his freedom, and the right to be with the woman he loves.
Based on a true story.
More Information | IMDB | Official | Photos
Listed at:
Guia de Fansites Portugal
Celebrity Link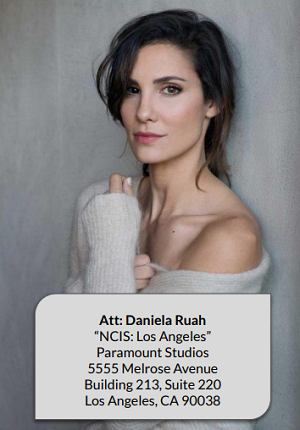 Original Launch (webs.com): September 21st, 2009
Relaunched: September 25th, 2012
Site version: 2.0
Maintained by: Ana
Hosted by: Flaunt
Designed by: Never Enough Design
Online:
Visitors:
(+298961 visitors since Sept. 21st 2009 on webs.com)
Contact: Email
[WARNING: The following contains MAJOR spoilers for the March 17 episode of NCIS: Los Angeles, "Till Death Do Us Part."]
Linda Hunt just made our Sunday night!

Not only did the actress surprise us by returning as boss lady Hetty Lange on NCIS: Los Angeles, her character officiated the long-awaited marriage ceremony of special agents Kensi (Daniela Ruah) and Deeks (Eric Christian Olsen)! We couldn't ask for a more perfect person to guide them through their vows — or a better topper to an emotional, action-packed episode. Call it the icing on the wedding cake!

We talked to the stars about having the 73-year-old Oscar-winner, who was in a car accident last year that left her temporarily unable to work, back on set.

"I started crying when I saw her," confesses Ruah who couldn't stop taking selfies with Hunt. "We have not set eyes on her or spoken to her in a year. We've just been getting updates on her wellbeing from our higher-ups and we were just over the moon. She's so loved by everybody including the audience. I mean, the amount of messages I get saying, 'If she leaves the show I'm not watching anymore.' I think she's enjoying the love."

Olsen was equally thrilled. "I gave her a hug and I go, 'I want you to be prepared. There's a good chance that I'm just gonna keep coming up to you and hugging you throughout the night.' She goes, 'That will be fine by me,'" Olsen says. "There's something about her gravitas that anchors the show. She does a take and it lands perfectly in a way that Linda Hunt can do better than anybody else in the world. [When that happens ] I get tears in my eyes and a ridiculous six-year-old smile. It's so good to have her back."
Read the full article HERE.
Source: TV Insider