DanielaRuahFans
Celebrating 11 Years Online
NCIS: LOS ANGELES
(2009/2020 • DRAMA / ACTION)
Daniela as
Kensi Marie Blye
Status: On Hiatus
Sundays 9/8c, only on CBS
Summary:
NCIS: Los Angeles is a drama about the high-stakes world of a division of NCIS that is charged with apprehending dangerous and elusive criminals, who pose a threat to the nation's security. 
More Information | IMDB | Official | Photos
A ESPIA 
(2020 • DRAMA / THRILLER)
Daniela as
Maria João Mascarenhas
Status: NO AR (Portugal)
Quartas-feiras às 21h30, na RTP1
Sinopse:
"Num país onde as luzes nunca se apagam, uma mulher da alta sociedade está disposta a tudo para salvar a sua pátria de uma invasão estrangeira". 
More Information | IMDB | Official | Photos
LUSO
(2021 • DRAMA/ACTION)
Daniela as
Maria Francisco
Summary:
A Portuguese child, abducted by slave traders, will fight in the American Revolution to win his freedom, and the right to be with the woman he loves.
Based on a true story.
More Information | IMDB | Official | Photos
Listed at:
Guia de Fansites Portugal
Celebrity Link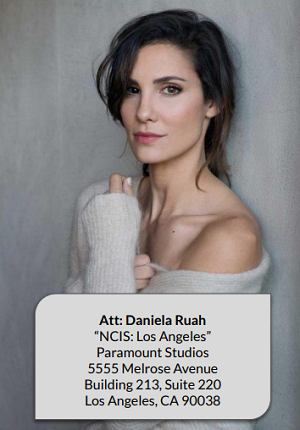 Original Launch (webs.com): September 21st, 2009
Relaunched: September 25th, 2012
Site version: 2.0
Maintained by: Ana
Hosted by: Flaunt
Designed by: Never Enough Design
Online:
Visitors:
(+298961 visitors since Sept. 21st 2009 on webs.com)
Contact: Email
É uma triste realidade…e cada vez mais nos apercebemos de que ela veio para ficar.
Todos os anos é o mesmo cenário que se repete. Tanto que até já há uma designação quase oficial para ela: a "época dos fogos".
Mas se por um lado existe um lado negro por detrás deste cenário (os que enriquecem à custa dele), por outro também existe um lado de luz e de brilho, demonstrado também todos os anos pelo povo português.
Somos um povo solidário, todos o sabem. Mas é nestas alturas que essa solidariedade atinge novos patamares.
Saibam, abaixo, como podem ajudar os nossos bombeiros a combater os incêndios em Portugal Continental e na Madeira:
• Indo directamente ter com a corporação de bombeiros da vossa área de residência:
Quem quer ajudar os milhares de bombeiros que há dias se encontram no terreno a combater incêndios pelo país deve levar-lhes água, mantimentos e alimentos leves, como por exemplo barras energéticas que se podem a qualquer momento comer e repor as forças, ou, pelo menos, alguns níveis de açúcar.
As corporações de bombeiros estão, a nível nacional, a efectuar colectas de todo o tipo de bens essenciais e a enviar diariamente para as zonas mais afectadas.
• Campanha CÁRITAS:
A Cáritas Portuguesa lançou ontem uma campanha de angariação de fundos para ajudar a população afectada pelos incêndios da Madeira e do Norte do País, tendo aberto uma conta bancária para quem quiser contribuir: Conta solidária com o nome "Cáritas ajuda a Madeira" – 0035 0697 0059 7240130 28, da CGD.
• Campanha Solidária Funchal:
A Câmara Municipal do Funchal criou também uma conta solidária para apoiar as pessoas afetadas pelos vários incêndios que assolam a Madeira.
"Face à dramática situação provocada pelos incêndios de agosto de 2016 no concelho do Funchal, foi criada uma conta solidária para receber donativos que serão aplicados pelo município do Funchal no auxílio à população afetada"
Os donativos podem ser feitos através de uma conta aberta para o efeito no Banco Santander:
"Funchal Solidário – Incêndio de agosto-2016
N.º 0003 42777599020/IBAN: PT50 0018 0003 4277 7599 0201 0
• Angariação de fundos Livro "As Profissões de um Bombeiro":
PORQUE HÁ SONHOS QUE PODEMOS TORNAR REALIDADE.
De 25 de julho a 31 de agosto ajude os nossos heróis e seja um também.
«As Profissões de um Bombeiro» é o nome do livro infantil lançado pelo Grupo Os Mosqueteiros, detentor em Portugal das insígnias
Intermarché
,
Bricomarché
e
Roady
. O livro resulta de uma parceria entre um dos maiores Grupos da distribuição nacional e a Liga dos Bombeiros Portugueses. O objectivo da campanha é sensibilizar e envolver os mais novos na causa dos bombeiros e em simultâneo angariar fundos para a compra de equipamentos de protecção individual de combate a incêndios florestais.
A mecânica da campanha é simples: de 25 de julho a 31 de agosto, ao comprarem pelo valor de 1,99€ um exemplar da história do Mateus, o herói deste livro, os portugueses vão estar a contribuir para a aquisição de equipamentos de proteção individual de combate a incêndios florestais para os Bombeiros portugueses. A história agora lançada estará à venda nas 306 lojas do Intermarché, Bricomarché ou Roady de norte a sul do país.
Fontes: JN, DN, Expresso, TVI24, LBP.pt, Mosqueteiros.pt, Bombeiros.pt