DanielaRuahFans
Celebrating 11 Years Online
NCIS: LOS ANGELES
(2009/2020 • DRAMA / ACTION)
Daniela as
Kensi Marie Blye
Status: On Hiatus
Sundays 9/8c, only on CBS
Summary:
NCIS: Los Angeles is a drama about the high-stakes world of a division of NCIS that is charged with apprehending dangerous and elusive criminals, who pose a threat to the nation's security. 
More Information | IMDB | Official | Photos
A ESPIA 
(2020 • DRAMA / THRILLER)
Daniela as
Maria João Mascarenhas
Status: NO AR (Portugal)
Quartas-feiras às 21h30, na RTP1
Sinopse:
"Num país onde as luzes nunca se apagam, uma mulher da alta sociedade está disposta a tudo para salvar a sua pátria de uma invasão estrangeira". 
More Information | IMDB | Official | Photos
LUSO
(2021 • DRAMA/ACTION)
Daniela as
Maria Francisco
Summary:
A Portuguese child, abducted by slave traders, will fight in the American Revolution to win his freedom, and the right to be with the woman he loves.
Based on a true story.
More Information | IMDB | Official | Photos
Listed at:
Guia de Fansites Portugal
Celebrity Link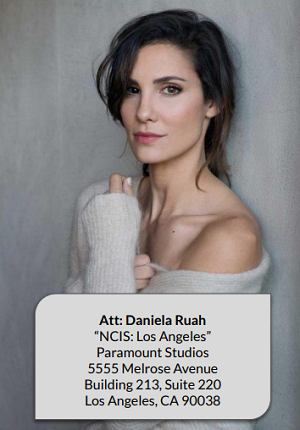 Original Launch (webs.com): September 21st, 2009
Relaunched: September 25th, 2012
Site version: 2.0
Maintained by: Ana
Hosted by: Flaunt
Designed by: Never Enough Design
Online:
Visitors:
(+298961 visitors since Sept. 21st 2009 on webs.com)
Contact: Email
Leiam a entrevista completa AQUI.
Sucesso de 'NCIS: Los Angeles' está em humanizar dramas de personagens, diz Daniela Ruah.
Eric Olsen espera que série policial aborde a pandemia na 12ª temporada.


No quarto episódio da actual temporada de "NCIS: Los Angeles" (a 11ª da série), os agentes especiais federais "G" Callen (Chris O'Donnell), Sam Hanna (LL Cool J), Kensi Blye (Daniela Ruah) e o detetive Marty Deeks (Eric Christian Olsen) acostumados a derrotar criminosos, terroristas e espiões ao redor do mundo, enfrentam um desafio um pouco diferente: lidar com um potencial surto de ebola. Mal imaginavam os atores da série que meses depois da experiência ficcional iriam encarar na vida real a pandemia do novo coronavírus.⠀

Em entrevista ao F5, os atores Daniela Ruah, 36, e Eric Christian Olsen, 42, dizem acreditar que o assunto certamente será abordado na próxima temporada da produção. "Os nossos roteiristas costumam se inspirar em eventos da atualidade, e eu não ficaria surpresa se eles incorporassem o coronavírus. Afinal, mesmo a gente voltando ao trabalho, não sei se poderemos ficar muito próximo uns dos outros, e tem que ter alguma coisa para justificar isso. E inserir a pandemia faz todo o sentido. Por que iríamos ignorar?", indagou Ruah.⠀
⠀
Olsen compartilha da mesma opinião. "Tem que ser abordado [o novo coronavírus]. O jeito como vamos interagir no mundo será diferente e obviamente isso afeta o programa", diz.

Sucesso nos EUA, no Brasil "NCIS: Los Angeles" é a segunda série mais vista no canal A&E, atrás de "Cold Case".⠀
⠀
Confira mais destaques no F5, o site de entretenimento do jornal brasileiro Folha de São Paulo.