DanielaRuahFans
Celebrating 11 Years Online
NCIS: LOS ANGELES
(2009/2020 • DRAMA / ACTION)
Daniela as
Kensi Marie Blye
Status: On Hiatus
Sundays 9/8c, only on CBS
Summary:
NCIS: Los Angeles is a drama about the high-stakes world of a division of NCIS that is charged with apprehending dangerous and elusive criminals, who pose a threat to the nation's security. 
More Information | IMDB | Official | Photos
A ESPIA 
(2020 • DRAMA / THRILLER)
Daniela as
Maria João Mascarenhas
Status: NO AR (Portugal)
Quartas-feiras às 21h30, na RTP1
Sinopse:
"Num país onde as luzes nunca se apagam, uma mulher da alta sociedade está disposta a tudo para salvar a sua pátria de uma invasão estrangeira". 
More Information | IMDB | Official | Photos
LUSO
(2021 • DRAMA/ACTION)
Daniela as
Maria Francisco
Summary:
A Portuguese child, abducted by slave traders, will fight in the American Revolution to win his freedom, and the right to be with the woman he loves.
Based on a true story.
More Information | IMDB | Official | Photos
Listed at:
Guia de Fansites Portugal
Celebrity Link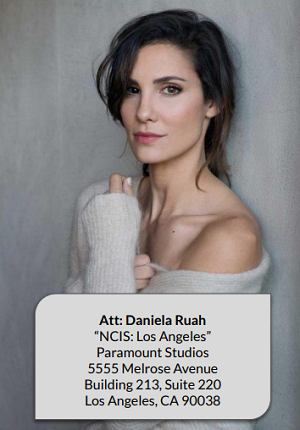 Original Launch (webs.com): September 21st, 2009
Relaunched: September 25th, 2012
Site version: 2.0
Maintained by: Ana
Hosted by: Flaunt
Designed by: Never Enough Design
Online:
Visitors:
(+298961 visitors since Sept. 21st 2009 on webs.com)
Contact: Email
By PAULETTE COHN
When NCIS: Los Angeles returns, Hetty (Linda Hunt) is being held hostage in Vietnam and is in danger of being auctioned off to the highest bidder, enemies of the U.S. who want to pick her brain for all the knowledge she has accumulated in her years as an agent.

It is looking as if this is one time that she won't be able to rescue herself, so Callen (Chris O'Donnell), Sam (LL Cool J), Kensi (Daniela Ruah) and Deeks (Eric Christian Olsen) head to Vietnam on an unsanctioned mission to save her life.

There, they team up with Sterling Bridges (James Remar), A.J. Chegwidden (John M. Jackson) and Charles Langston (Carl Lumbly) for an off-the-books rescue mission that if discovered, can cost them dearly.

"This is a really, really risky trip, but we all know that this team will do anything for Hetty, and this time her life is genuinely at risk," Ruah tells Parade.com in this exclusive interview. "She's holding the fort down as well as she can on her own, but I think this is one of those times that she may not be able to make it out by herself."

Sunday night's "Goodbye, Vietnam" episode also sees the return of Nell's (Renée Felice Smith) sister, homeland security specialist Sydney Jones (Ashley Spillers), who is called up by Executive Assistant Director Shay Mosley (Nia Long) to assist the team in Los Angeles with processing evidence connected to Hetty's time in Vietnam during the war.

"It's really good casting," Ruah says of the matchup of Smith and Spillers. "They have really good chemistry, even though the girls clash as characters, they actually have really good chemistry."

So it looks like this episode picks up right where we left off with the team gearing up and heading out to Vietnam.

Yes. This is one of those super dangerous trips that this team takes to save one of their family members, family more so than team member. In this case it's Hetty, who is everybody's mother in a way, and it's a completely unsanctioned trip. We're not allowed to bring weapons into the country. We're completely on our own. Essentially the whole team goes rogue. If we get caught, the government disowns us.

It's taken them so long to find her. They know that she's in trouble because they haven't heard from her, but how do they know that this is the moment in time they need to be there?

I think once Hetty sold all of her assets, put in her retirement and voluntarily disappeared, things don't add up. The fact that she hasn't talked to any of us, and then in the last episode, we found clues as to where she might be. So, the fact that we figured out where she might be makes us understand that this is a risky situation.

Then the involvement of her former team — Chegwidden and Callen both bump into each other at Hetty's house. Clearly the fact that they're trying to find her, too, is a big indicator that things may not be okay.

There's a variety of clues that are left by Hetty that the team has put together, which lets us know that she's probably needing us at this point.