DanielaRuahFans
Celebrating 11 Years Online
NCIS: LOS ANGELES
(2009/2020 • DRAMA / ACTION)
Daniela as
Kensi Marie Blye
Status: On Hiatus
Sundays 9/8c, only on CBS
Summary:
NCIS: Los Angeles is a drama about the high-stakes world of a division of NCIS that is charged with apprehending dangerous and elusive criminals, who pose a threat to the nation's security. 
More Information | IMDB | Official | Photos
A ESPIA 
(2020 • DRAMA / THRILLER)
Daniela as
Maria João Mascarenhas
Status: NO AR (Portugal)
Quartas-feiras às 21h30, na RTP1
Sinopse:
"Num país onde as luzes nunca se apagam, uma mulher da alta sociedade está disposta a tudo para salvar a sua pátria de uma invasão estrangeira". 
More Information | IMDB | Official | Photos
LUSO
(2021 • DRAMA/ACTION)
Daniela as
Maria Francisco
Summary:
A Portuguese child, abducted by slave traders, will fight in the American Revolution to win his freedom, and the right to be with the woman he loves.
Based on a true story.
More Information | IMDB | Official | Photos
Listed at:
Guia de Fansites Portugal
Celebrity Link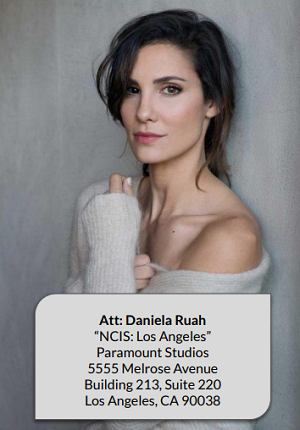 Original Launch (webs.com): September 21st, 2009
Relaunched: September 25th, 2012
Site version: 2.0
Maintained by: Ana
Hosted by: Flaunt
Designed by: Never Enough Design
Online:
Visitors:
(+298961 visitors since Sept. 21st 2009 on webs.com)
Contact: Email
Em Outubro de 2019, Daniela Ruah foi convidada para uma entrevista do podcast do jornal "Observador" Conversas de Fim de Tarde.
Cliquem na imagem abaixo e ouçam a entrevista completa.
__________________
Back in October 2019, Daniela Ruah did a podcast interview for the portuguese newspaper "Observador".
During this interview she addressed the political environment nowadays in the USA, how it was like to shoot NCIS: LA´s milestone 250th episode (penned by brother-in-law and co-star Eric C. Olsen), how it is like to film an action series, her family and work life and how she deals with the day-to-day challenges. She also talked about her new show "A Espia" (which premiered yesterday in Portugal), and how she felt inspired by her co-star Diogo Morgado to perhaps one day attempt directing or writing her own projects.
FONTE: Observador
Daniela Ruah: "O povo americano está polarizado"


A atriz confessa que ter filhos tem muita ação, que a estabilidade familiar é mais importante do que um óscar e que não gosta do ambiente que se vive, neste momento, nos Estados Unidos da América.
Na semana passada, a nova série de TV portuguesa "A Espia" foi apresentada ao público.
Dada a quarentena obrigatória, não houve lugar a entrevistas de imprensa. Por isso, as coisas foram diferentes desta vez.
Vejam todos os vídeos, abaixo.
"A Espia" estreia já esta quarta-feira, 8 de abril às 21:00, apenas na RTP.
_____________________
Last week, Daniela´s new portuguese tv series "A Espia" was presented to the public.
Given the mandatory quarantine, there were no press conferences. So things had to be different this time. Check all the videos below.
"24 Land" premieres this Wednesday, April 8th at 9pm, only on RTP.

INSTAGRAM LIVE (April 1, 2020)

5 PARA A MEIA NOITE (April 2, 2020)

FAZ FAÍSCA (April 5, 2020)

DANIELA´S INSTA STORIES (April 1, 2020)

Confiram todas as fotos de bastidores e imagens promocionais da nova série da RTP, "A Espia", no link da galeria, abaixo.
________
Check all the behind the scenes and promotional photos from RTP´s new series "24 Land", at the gallery link below.
GALLERY LINKS:
Portuguese TV > Mini Series "A Espia"/"Twenty-Four Land" > Promotional Stills
Portuguese TV > Mini Series "A Espia"/"Twenty-Four Land" > Behind The Scenes/Bastidores
Portuguese TV > Mini Series "A Espia"/"Twenty-Four Land" > Bastidores – Ateneu Comercial Do Porto, 21 De Junho 2019
"A Espia" é a nova série de ficção histórica da RTP1, que nos traz uma história de espionagem, romance e sedução passada em Portugal e na Galiza durante a 2ª Guerra Mundial. Estreia a 8 de abril, pelas 21h00, na RTP1.
Com realização de Jorge Paixão da Costa, reúne no seu elenco nomes como: Daniela Ruah, Maria João Bastos e Diogo Morgado.
A partir de 8 de abril, na RTP1 e na RTP Play.
______
"24 Land" is the new period fiction series from RTP1, which brings us a story of espionage, romance and seduction set in Portugal and Galicia during the 2nd World War. It premieres on April 8, at 9 pm, on RTP1.
Directed by Jorge Paixão da Costa, it brings together in its cast names such as: Daniela Ruah, Maria João Bastos and Diogo Morgado.
From April 8, on RTP1 and RTP Play.
O Genérico Inicial da mini-série "A Espia", com Daniela Ruah, Maria João Bastos, Diogo Morgado, Adriano Carvalho, Marco d'Almeida, António Capelo, entre muitos outros. Uma co-produção Ukbar Filmes, RTP e Ficcion Producciones.
Estreia a 8 de Abril de 2020, às 21h, na RTP 1.
———–
The opening credits for the mini-series "A Espia" ("24 Land"), starring Daniela Ruah, Maria João Bastos, Diogo Morgado, Adriano Carvalho, Marco d'Almeida, António Capelo and many others. A co-production by Ukbar Filmes, RTP and Ficcion Producciones.
Premieres April 8, 2020, at 9pm, on RTP 1 (Portugal).
Hey guys, DanielaRuahFans.com is coming back after almost 8 months of hiatus!

In this current situation that we are all living in, it is always good to get back to doing something that takes the stress and worries away.
A special note of thanks to the always wonderful Claudia from "NeverEnoughDesign" for the brand new look for the site.

In the next few days I will be updating the site with all the latest news, photos and videos (and hopefully a little thing more). So stay tuned for that 😉

Hope everyone is doing ok and staying safe.
We are in this together.
Much love to all of you!
Ana,
xoxo
Olá pessoal, o nosso site DanielaRuahFans.com está de volta após quase 8 meses de ausência!

Nesta situação atual em que todos vivemos, é sempre bom voltar a fazer algo que diminui o stress e as preocupações. Uma nota especial de agradecimento à sempre maravilhosa Claudia do site "NeverEnoughDesign" pelo novo visual do site.

Nos próximos dias, irei actualizar o site com todas as últimas notícias, fotos e vídeos (e, talvez, com algo mais). Portanto, fiquem atentos 😉

Espero que todos estejam bem e permaneçam seguros.
Estamos juntos.
Muito amor a todos vocês!
Ana,
xoxo
Making a short interruption on our hiatus to mark Dani´s 36th birthday today.
May you have the greatest day of all sweet Daniela, filled with joy, laughter and lots lots of love!
Your fans wish to celebrate this day with you for MANY years to come.
HAPPY BIRTHDAY!!! 🥳

click to zoom
Fazemos hoje uma breve interrupção da nossa pausa para celebrar o 36º aniversário da nossa Dani.
Que tenhas um dia fantástico querida Daniela, cheio de alegria, risos e muito muito amor!
Os teus fãs desejam comemorar este dia contigo por MUITOS mais anos.
FELIZ ANIVERSÁRIO!!! 🥳