DanielaRuahFans
Celebrating 11 Years Online
NCIS: LOS ANGELES
(2009/2020 • DRAMA / ACTION)
Daniela as
Kensi Marie Blye
Status: On Hiatus
Sundays 9/8c, only on CBS
Summary:
NCIS: Los Angeles is a drama about the high-stakes world of a division of NCIS that is charged with apprehending dangerous and elusive criminals, who pose a threat to the nation's security. 
More Information | IMDB | Official | Photos
A ESPIA 
(2020 • DRAMA / THRILLER)
Daniela as
Maria João Mascarenhas
Status: NO AR (Portugal)
Quartas-feiras às 21h30, na RTP1
Sinopse:
"Num país onde as luzes nunca se apagam, uma mulher da alta sociedade está disposta a tudo para salvar a sua pátria de uma invasão estrangeira". 
More Information | IMDB | Official | Photos
LUSO
(2021 • DRAMA/ACTION)
Daniela as
Maria Francisco
Summary:
A Portuguese child, abducted by slave traders, will fight in the American Revolution to win his freedom, and the right to be with the woman he loves.
Based on a true story.
More Information | IMDB | Official | Photos
Listed at:
Guia de Fansites Portugal
Celebrity Link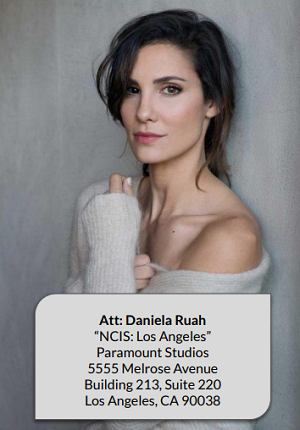 Original Launch (webs.com): September 21st, 2009
Relaunched: September 25th, 2012
Site version: 2.0
Maintained by: Ana
Hosted by: Flaunt
Designed by: Never Enough Design
Online:
Visitors:
(+298961 visitors since Sept. 21st 2009 on webs.com)
Contact: Email
Yesterday was a really strong social media day for the "NCIS: LA" cast! 😉
They did a live-tweeting session during the season finale episode and, before that, the cast also got to do a little Q&A on Instagram and answered some burning fan-questions. A real treat for all the fans!
Check out below what were Daniela Ruah´s answers.
Jaime Camil is bringing a little happiness into our lives with his new CBS comedy, Broke, AND with his new digital series, Jaime's Happy Hour. For the inaugural episode, NCIS: Los Angeles star Daniela Ruah joins from her backyard to share a few stories and laughs about family, work, and salsa!
Tune in for more happiness Thursdays at 6PM ET.
SAM, CALLEN AND ROUNTREE TRAVEL TO AFGHANISTAN WHEN MARINE COLONEL SARAH "MAC" MACKENZIE ASKS THEM TO INVESTIGATE A NAVY CHIEF WHO MAY HAVE KILLED AN UNARMED PRISONER, ON "NCIS: LOS ANGELES," AT A SPECIAL TIME ON SUNDAY, APRIL 26

"Code of Conduct" – Sam, Callen and Rountree travel to Afghanistan when Marine Lieutenant Colonel Sarah "Mac" MacKenzie (Catherine Bell) asks NCIS to help with a sensitive case after two SEALs claim their Chief murdered an unarmed prisoner, on NCIS: LOS ANGELES at a special time, Sunday, April 26 (10:00-11:00 PM, ET/PT) on the CBS Television Network. Photo: Bill Inoshita/CBS ©2020 CBS Broadcasting, Inc. All Rights Reserved.
GALLERY LINK
NCIS Los Angeles > Promotional Episode Stills > Season 11 > 11.22 Code Of Conduct
Esta quarta-feira estreia o 2⁰ episódio da série "A Espia" com produção da Ukbar Filmes.
O realizador Jorge Paixão da Costa e os actores Maria João Bastos, Daniela Ruah e Diogo Morgado revelam-nos um pouco mais desta série de espionagem.
NCIS HELPS A FORMER NCIS TECH OPERATOR SEARCH FOR HER MISSING EX-PARTNER, WHEN THEY FEAR HE MIGHT BE WORKING WITH THE GUN RUNNERS THEY FAILED TO TAKE DOWN YEARS AGO, ON "NCIS: LOS ANGELES," SUNDAY, APRIL 19

"Murder of Crows" – NCIS helps a former NCIS tech operator search for her missing ex-partner, when they fear he might be working with the gun runners they failed to take down years ago. Also, Callen reveals to Sam that he's about to put down roots with Anna, and Deeks reels when his bar gets a negative review, on NCIS: LOS ANGELES, Sunday, April 19 (9:00-10:00 PM, ET/PT) on the CBS Television Network.

GALLERY LINK
NCIS Los Angeles > Promotional Episode Stills > Season 11 > 11.21 Murder Of Crows
"NCIS: Los Angeles" returns tomorrow with a fresh new episode!
NCIS ASSISTS THE DOJ IN THE INVESTIGATION OF AN ARSONIST WHO TARGETS AN FBI SAFE HOUSE THAT'S PROTECTING A POLITICAL ACTIVIST SEEKING ASYLUM, ON "NCIS: LOS ANGELES," SUNDAY, APRIL 12

"Knock Down" – NCIS assists the DOJ in the investigation of an arsonist who targets an FBI safe house that's protecting a political activist seeking asylum. Also, Eric deals with the aftermath of Nell leaving the team, on NCIS: LOS ANGELES, Sunday, April 12 (9:00-10:00 PM, ET/PT) on the CBS Television Network.
FONTE: PÚBLICO
Texto: Joana Amaral Cardoso
9 de Abril de 2020
"Interpreto mulheres com força, nem que seja mental": estrela de série americana de massas, a actriz volta à ficção portuguesa com uma história que evoca a sua memória familiar da II Guerra. Uma conversa que contrasta a escola Lee Strasberg e a escola das novelas, a estabilidade e, claro, a covid-19.

PAUL SMITH
"Olá, desde há 12 anos!"
Do outro lado do ecrã de um computador, Daniela Ruah está em Los Angeles em vez de voltar a Lisboa para o lançamento da sua nova série, o primeiro trabalho de ficção que faz em Portugal desde 2008. A Espia, que se estreou na RTP1 dia 8, é o pretexto para uma entrevista que decorre também quase 12 anos depois de uma conversa do PÚBLICO com uma actriz de 25 anos que estava prestes a ver tudo a mudar. "Foi uma viagem que mudou a vida por completo. Profissional e pessoalmente", recorda Ruah de sorriso na voz. Um vírus equalizador põe Lisboa e Los Angeles no mesmo plano distante devido à quarentena generalizada.
Em 2009 falava de como se ia tornar no novo rosto de uma série da CBS, Investigação Criminal: Los Angeles, e do telefonema para um papel no filme Red Tails, produzido e escrito por George Lucas. "Ligaram-me para as duas coisas na mesma semana, estava tudo a acontecer ao mesmo tempo, foi incrível." Já não precisava de um plano, dizia a actriz, sem saber que ganharia um lugar quase cativo na televisão americana e mundial e que se tornaria num novo rosto da peculiar categoria "portugueses de sucesso lá fora".
Agora descreve ao Ípsilon uma carreira de uma working actress: grata pela estabilidade, entusiasmada por mudar de ritmo para uma mini-série portuguesa ambiciosa em que interpreta uma espia acidental ao lado de Maria João Bastos, Marco d'Almeida, Adriano Carvalho ou Diogo Morgado. E que planeia enveredar pela produção num futuro já sem as restrições do novo coronavírus. Começou nas novelas (a estreia foi com Jardins Proibidos) e em 2018 apresentou a final da Eurovisão com Filomena Cautela, Sílvia Alberto e Catarina Furtado. Arranja tempo para ver televisão (está a ver a série Unorthodox da Netflix) e, aos 35 anos, não troca parte dos seus poucos meses de paragem de uma série de polícias e ladrões e do tempo em família por um bilhete para qualquer viagem no ritmo febril de produção audiovisual mundial. A Espia, diz a autora da ideia da série, Pandora Cunha Telles, "foi escrita para ela".
– – – Continue Reading – – –
Foi hoje lançada uma nova entrevista com Daniela Ruah, desta vez para o podcast do "Expresso" A Beleza das Pequenas Coisas.
Ouçam, abaixo, a entrevista completa.
___________________
Portuguese newspaper "Expresso" just released a new podcast interview with Daniela Ruah. I will attempt to make a little summary of the most important things:
In this new audio interview, Daniela talks about a slew of issues, such as the actual situation the world is living in (with covid-19); the necessity to change our habits; what she is doing to help (she has sewn 90 masks in the last 3 days); how family is the most important thing in her life (she wants her kids to have good memories of this particular and historical time); what is the secret of her successful career (lots of work and a little bit of luck), and her latest project in portuguese TV, "A Espia" (the most challenging aspect while filming this miniseries was the difference in rythm and pace, which was much slower than NCIS: LA).
Regarding other projects, she disclosed that she has indeed other projects in the works (still in very initial stages), but she might start directing and producing soon! 😉
To complete the interview, Daniela was asked to name songs that she is currently listening to the most.
They were:
Disturbed – "The Sound Of Silence"
Willow Robinson – "Hope"
TAY – "Não Preciso ft. DYLAN"
FONTE: Expresso
Podcast: A BELEZA DAS PEQUENAS COISAS

Daniela Ruah: "À noite vejo filmes e costuro máscaras para dar"