DanielaRuahFans
Celebrating 11 Years Online
NCIS: LOS ANGELES
(2009/2020 • DRAMA / ACTION)
Daniela as
Kensi Marie Blye
Status: On Hiatus
Sundays 9/8c, only on CBS
Summary:
NCIS: Los Angeles is a drama about the high-stakes world of a division of NCIS that is charged with apprehending dangerous and elusive criminals, who pose a threat to the nation's security. 
More Information | IMDB | Official | Photos
A ESPIA 
(2020 • DRAMA / THRILLER)
Daniela as
Maria João Mascarenhas
Status: NO AR (Portugal)
Quartas-feiras às 21h30, na RTP1
Sinopse:
"Num país onde as luzes nunca se apagam, uma mulher da alta sociedade está disposta a tudo para salvar a sua pátria de uma invasão estrangeira". 
More Information | IMDB | Official | Photos
LUSO
(2021 • DRAMA/ACTION)
Daniela as
Maria Francisco
Summary:
A Portuguese child, abducted by slave traders, will fight in the American Revolution to win his freedom, and the right to be with the woman he loves.
Based on a true story.
More Information | IMDB | Official | Photos
Listed at:
Guia de Fansites Portugal
Celebrity Link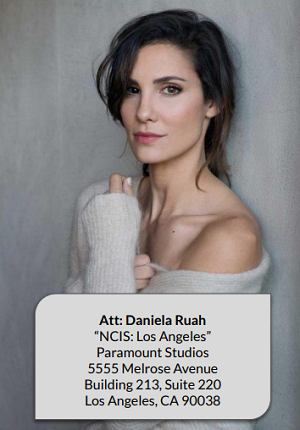 Original Launch (webs.com): September 21st, 2009
Relaunched: September 25th, 2012
Site version: 2.0
Maintained by: Ana
Hosted by: Flaunt
Designed by: Never Enough Design
Online:
Visitors:
(+298961 visitors since Sept. 21st 2009 on webs.com)
Contact: Email
SAM, CALLEN AND ROUNTREE TRAVEL TO AFGHANISTAN WHEN MARINE COLONEL SARAH "MAC" MACKENZIE ASKS THEM TO INVESTIGATE A NAVY CHIEF WHO MAY HAVE KILLED AN UNARMED PRISONER, ON "NCIS: LOS ANGELES," AT A SPECIAL TIME ON SUNDAY, APRIL 26

"Code of Conduct" – Sam, Callen and Rountree travel to Afghanistan when Marine Lieutenant Colonel Sarah "Mac" MacKenzie (Catherine Bell) asks NCIS to help with a sensitive case after two SEALs claim their Chief murdered an unarmed prisoner, on NCIS: LOS ANGELES at a special time, Sunday, April 26 (10:00-11:00 PM, ET/PT) on the CBS Television Network. Photo: Bill Inoshita/CBS ©2020 CBS Broadcasting, Inc. All Rights Reserved.
GALLERY LINK
NCIS Los Angeles > Promotional Episode Stills > Season 11 > 11.22 Code Of Conduct
via CBS Press Express & SpoilerTV & Entertainment Tonight