Daniela Ruah Fans
danielaruah-fans.com - mobile version
Current Project
NCIS: Los Angeles
as
Kensi Blye
|
Sundays at 9/8c
"NCIS: Los Angeles" is a drama about the high-stakes world of a division of NCIS that is charged with apprehending dangerous and elusive criminals, who pose a threat to the nation's security. "NCIS: Los Angeles" is currently airing its Season 10, only on CBS.
Next on NCIS: LA
S10E01 - To Live And Die In Mexico - September 30
S10E02 - Superhuman - October 7
S10E03 - The Prince - October 14
S10E04 - Hit List - October 21
S10E05 - Pro Se - October 28
S10E06 - Asesinos - November 4
S10E07 - One Of Us - November 11
S10E08 - The Patton Project - November 18
S10E09 - A Diamond in the Rough - November 25
S10E10 - Heist - December 9
S10E11 - Joyride - December 16
S10E12 - The Sound of Silence - January 6
S10E13 - Better Angels - January 13
S10E14 - Smokescreen - January 27
S10E15 - Smokescreen - Part II - February 17
S10E16 - Into The Breach - March 3
S10E17 - Till Death Do Us Part - March 17
S10E18 - TBA - TBA
S10E19 - Searching - TBA
S10E20 - Choke Point - TBA
S10E21 - TBA - TBA
S10E22 - TBA - TBA
S10E23 - TBA - TBA
S10E24 - TBA - TBA
Latest Projects
NCIS: LOS ANGELES
TV Show (2009-2019)
as: Kensi Blye
Sundays at 9/8c, on CBS
Status: Airing Season 10

More Information | IMDB | Official | Photos


EXCUSE

Short Film (2016)
as: Brenda
Status: Available Online

More Information | IMDB | Official | Photos More
Facebook
Fan Mail

Use the address below
to send your Fan Mail to Daniela :
Att: Daniela Ruah "NCIS: Los Angeles"
Paramount Studios 5555 Melrose Avenue
Building 213, Suite 220 Los Angeles, CA 90038
Elite Affiliates

Listed at Guia de Fansites Portugal & Celebrity Link

Apply
SITE INFO
Original Launch:
September 21st, 2009
Relaunched:
September 25th, 2012
Site version:
2.0
Maintained by:
Ana
Hosted by:
Flaunt
Designed by:
Never Enough Design
Online:

Visitors:
(+298961 visitors since Sept. 21st 2009 on Webs.com)
Contact: Email

It´s gonna be a busy May for Daniela Ruah and Eric Christian Olsen! 😀
Yesterday it was announced that the NCIS: LA dynamic duo will attend the MCM Hannover Comic Con, which will take place at Deutsche Messe, Hannover on 20-21 May 2017.
And today, the official website deligthed the fans with the news that they would repeat their appearance from last year and also attend the MCM London Comic Con, which will take place at Excel London – Royal Victoria Dock, on 26-28 May 2017.
Happy news indeed! 😀
They will attend both events on Saturday and Sunday.
MCM HANNOVER Comic Con 2017 – MAY 20-21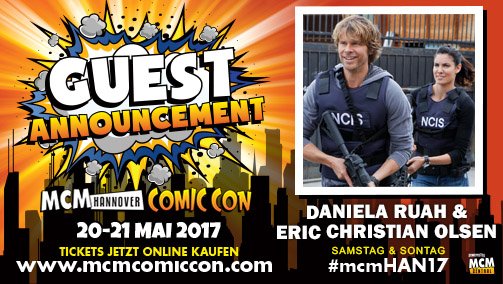 MCM LONDON Comic Con 2017 – MAY 26-28
So there you have it european fans. If you can´t meet them in Germany, perhaps you can meet them in England! 🙂 For more info on this stay tuned to the official websites of both events:
MCM Hannover Comic Con
You can get info on tickets HERE.
MCM London Comic Con
You can get info on tickets HERE
Highlights from the Uk's Biggest Popular Culture Weekend May 2016.