DanielaRuahFans
Celebrating 11 Years Online
NCIS: LOS ANGELES
(2009/2020 • DRAMA / ACTION)
Daniela as
Kensi Marie Blye
Status: On Hiatus
Sundays 9/8c, only on CBS
Summary:
NCIS: Los Angeles is a drama about the high-stakes world of a division of NCIS that is charged with apprehending dangerous and elusive criminals, who pose a threat to the nation's security. 
More Information | IMDB | Official | Photos
A ESPIA 
(2020 • DRAMA / THRILLER)
Daniela as
Maria João Mascarenhas
Status: NO AR (Portugal)
Quartas-feiras às 21h30, na RTP1
Sinopse:
"Num país onde as luzes nunca se apagam, uma mulher da alta sociedade está disposta a tudo para salvar a sua pátria de uma invasão estrangeira". 
More Information | IMDB | Official | Photos
LUSO
(2021 • DRAMA/ACTION)
Daniela as
Maria Francisco
Summary:
A Portuguese child, abducted by slave traders, will fight in the American Revolution to win his freedom, and the right to be with the woman he loves.
Based on a true story.
More Information | IMDB | Official | Photos
Listed at:
Guia de Fansites Portugal
Celebrity Link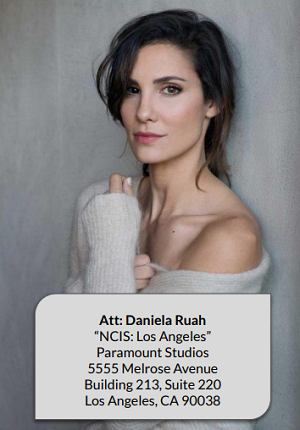 Original Launch (webs.com): September 21st, 2009
Relaunched: September 25th, 2012
Site version: 2.0
Maintained by: Ana
Hosted by: Flaunt
Designed by: Never Enough Design
Online:
Visitors:
(+298961 visitors since Sept. 21st 2009 on webs.com)
Contact: Email
Pelo 2° ano consecutivo, a actriz Daniela Ruah foi considerada uma das 25 mulheres mais influentes em Portugal (19a posição), numa iniciativa organizada pela revista digital "Executiva". O prémio da atriz Daniela Ruah foi recebido pelo seu agente João Belo.
Muitos parabéns por mais este reconhecimento Daniela! Mereces!
*****************
For the 2nd consecutive year, actress Daniela Ruah was considered one of the 25 most influential women in Portugal (19th position), in the annual initiative conducted by digital magazine "Executiva". The award was received by Daniela´s agent João Belo.
Many congratulations Daniela! You deserve this!
19 Daniela Ruah, atriz

A atriz portuguesa integra, desde 2009, o elenco da série americana Investigação Criminal: Los Angeles, da CBS, que se prepara para entrar na 11.ª temporada, e onde encarna a personagem Kensi. Daniela Ruah está de regresso à televisão portuguesa como atriz, depois de, em 2018, ter sido uma das apresentadoras do festival da Eurovisão, que se realizou em Lisboa. Será a estrela principal da série da RTP, A Espia, que vai ter oito episódios, e cuja história se passa durante a Segunda Guerra Mundial. Tem cerca de 1 milhão de seguidores no Instagram.
FONTE: Executiva