DanielaRuahFans
Celebrating 11 Years Online
NCIS: LOS ANGELES
(2009/2020 • DRAMA / ACTION)
Daniela as
Kensi Marie Blye
Status: On Hiatus
Sundays 9/8c, only on CBS
Summary:
NCIS: Los Angeles is a drama about the high-stakes world of a division of NCIS that is charged with apprehending dangerous and elusive criminals, who pose a threat to the nation's security. 
More Information | IMDB | Official | Photos
A ESPIA 
(2020 • DRAMA / THRILLER)
Daniela as
Maria João Mascarenhas
Status: NO AR (Portugal)
Quartas-feiras às 21h30, na RTP1
Sinopse:
"Num país onde as luzes nunca se apagam, uma mulher da alta sociedade está disposta a tudo para salvar a sua pátria de uma invasão estrangeira". 
More Information | IMDB | Official | Photos
LUSO
(2021 • DRAMA/ACTION)
Daniela as
Maria Francisco
Summary:
A Portuguese child, abducted by slave traders, will fight in the American Revolution to win his freedom, and the right to be with the woman he loves.
Based on a true story.
More Information | IMDB | Official | Photos
Listed at:
Guia de Fansites Portugal
Celebrity Link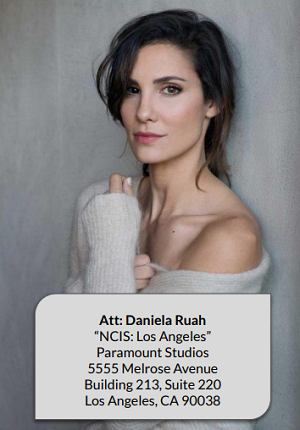 Original Launch (webs.com): September 21st, 2009
Relaunched: September 25th, 2012
Site version: 2.0
Maintained by: Ana
Hosted by: Flaunt
Designed by: Never Enough Design
Online:
Visitors:
(+298961 visitors since Sept. 21st 2009 on webs.com)
Contact: Email
Another exclusive sneak peek and featurette into next Sunday´s very special episode, this time by Entertainment Weekly 😉
Just as EW promised in August, Kensi (Daniela Ruah) and Deeks (Eric Christian Olsen) will finally marry on NCIS: LA. And we have a first look at the nuptials!

In this exclusive video, Deeks declares how he's finally marrying the woman he loves before the actors cut in with their own commentary about the highly-anticipated episode. "We've been able to develop this story in a very detailed way and now this is finally the culmination of that," says Ruah.

The video also includes a first look at Kensi's gown, her pastel-wearing bridesmaids, and a not-so-happy moment that involves Sam Hanna (LL Cool J) throwing an unwanted guest (at least, we think he was invited?) on a table. LL Cool J and Chris O'Donnell also weigh in on the moment that's a long time in the making. "This is one of the most important and attractive storylines to a lot of fans," LL Cool J says. "They love the connection between Kensi and Deeks. Anyone who knows anything about marriage knows this is just the beginning."

There's also a "revelation" involving a box that Deeks get to open. "The whole episode is very sunshine and gun powder," teases Ruah.

The wedding bells will ring this Sunday at 9 p.m. ET on CBS.
Source: Entertainment Weekly