DanielaRuahFans
Celebrating 11 Years Online
NCIS: LOS ANGELES
(2009/2020 • DRAMA / ACTION)
Daniela as
Kensi Marie Blye
Status: On Hiatus
Sundays 9/8c, only on CBS
Summary:
NCIS: Los Angeles is a drama about the high-stakes world of a division of NCIS that is charged with apprehending dangerous and elusive criminals, who pose a threat to the nation's security. 
More Information | IMDB | Official | Photos
A ESPIA 
(2020 • DRAMA / THRILLER)
Daniela as
Maria João Mascarenhas
Status: NO AR (Portugal)
Quartas-feiras às 21h30, na RTP1
Sinopse:
"Num país onde as luzes nunca se apagam, uma mulher da alta sociedade está disposta a tudo para salvar a sua pátria de uma invasão estrangeira". 
More Information | IMDB | Official | Photos
LUSO
(2021 • DRAMA/ACTION)
Daniela as
Maria Francisco
Summary:
A Portuguese child, abducted by slave traders, will fight in the American Revolution to win his freedom, and the right to be with the woman he loves.
Based on a true story.
More Information | IMDB | Official | Photos
Listed at:
Guia de Fansites Portugal
Celebrity Link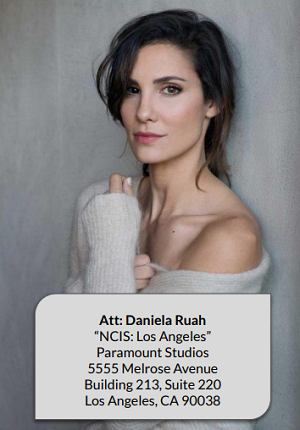 Original Launch (webs.com): September 21st, 2009
Relaunched: September 25th, 2012
Site version: 2.0
Maintained by: Ana
Hosted by: Flaunt
Designed by: Never Enough Design
Online:
Visitors:
(+298961 visitors since Sept. 21st 2009 on webs.com)
Contact: Email
Diogo Morgado terminou o seu filme como realizador. Chama-se Excuse e Daniela Ruah surge em destaque. O DN já o viu e falou com o actor que se sente sobretudo um storyteller…
Por Rui Pedro Tendinha
Diogo Morgado não precisou do bruaá de Hollywood para se aventurar na realização. Ainda em Portugal, há três anos, pegou em Rui Unas e realizou a curta não financiada Break. Pouca divulgação terá tido, mas agora, também com um orçamento reduzido, filmou Excuse, em Hollywood, a partir de um pequeno conto de Cynthia Garazi. São 15 minutos bem estimáveis que revelam um olhar cinematográfico e uma direcção de actores segura. Para já, a ideia é levar o filme para o circuito dos festivais e servir como cartão-de-visita para voos mais longos.

Excuse apoia-se numa interpretação forte de Daniela Ruah, uma paciente traumatizada que escapa por breves momentos do seu quarto de hospital para fumar no terraço. Aí, conhece Alex, outro paciente com traumas semelhantes. "Brenda" e "Alex" parecem fazer sentido na erosão das mágoas particulares. Naquele diálogo ao sol da Califórnia tocam-se mutuamente naquilo que de mais íntimo ambos escondem. O filme não muda de décor, mas são várias as emoções que passam por essa conversa.

Para quem tem a ideia de que Ruah pode ter tiques de série americana formatada (Investigação Criminal: Los Angeles) ou de actriz de telenovela portuguesa, vai ter um choque. Há uma intensidade imensa na sua gama de emoções e as explosões dramáticas são fulgurantes. Diogo Morgado percebeu que Daniela Ruah é um rosto para cinema.
***Thanks to this Tumblr user for the english translation***
This is the part that mostly deals with Daniela and a bit of the story:
"Excuse" relies on a strong interpretation of Daniela Ruah, who plays a traumatized patient who escapes briefly from her hospital room to smoke on the terrace. There, she meets Alex, another patient with similar traumas. Brenda and Alex seem to make sense in the erosion of private grievances. That dialogue in the California sun touch each other in what most intimate both hide. The film does not change the décor, but there are several emotions that go through this conversation.
For those who have the idea that Ruah may have tics formatted by American series (Criminal Investigation: Los Angeles ) or Portuguese soap operas, will be shocked. There is an immense intensity in her range of emotions and dramatic outbursts are dazzling. Diogo Morgado realized Daniela Ruah is a face for film.
*********************************
Fonte: Diário de Notícias