DanielaRuahFans
Celebrating 11 Years Online
NCIS: LOS ANGELES
(2009/2020 • DRAMA / ACTION)
Daniela as
Kensi Marie Blye
Status: On Hiatus
Sundays 9/8c, only on CBS
Summary:
NCIS: Los Angeles is a drama about the high-stakes world of a division of NCIS that is charged with apprehending dangerous and elusive criminals, who pose a threat to the nation's security. 
More Information | IMDB | Official | Photos
A ESPIA 
(2020 • DRAMA / THRILLER)
Daniela as
Maria João Mascarenhas
Status: NO AR (Portugal)
Quartas-feiras às 21h30, na RTP1
Sinopse:
"Num país onde as luzes nunca se apagam, uma mulher da alta sociedade está disposta a tudo para salvar a sua pátria de uma invasão estrangeira". 
More Information | IMDB | Official | Photos
LUSO
(2021 • DRAMA/ACTION)
Daniela as
Maria Francisco
Summary:
A Portuguese child, abducted by slave traders, will fight in the American Revolution to win his freedom, and the right to be with the woman he loves.
Based on a true story.
More Information | IMDB | Official | Photos
Listed at:
Guia de Fansites Portugal
Celebrity Link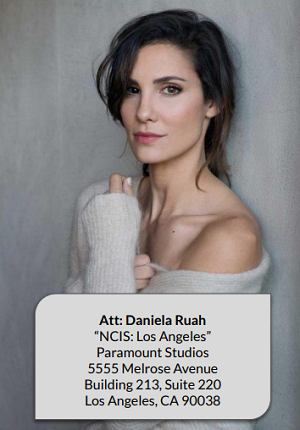 Original Launch (webs.com): September 21st, 2009
Relaunched: September 25th, 2012
Site version: 2.0
Maintained by: Ana
Hosted by: Flaunt
Designed by: Never Enough Design
Online:
Visitors:
(+298961 visitors since Sept. 21st 2009 on webs.com)
Contact: Email
Daniela Ruah e Diogo Morgado encontraram-se nos Estados Unidos, onde ambos estão a trabalhar actualmente, e aproveitaram para matar saudades e avançar com um novo projecto em conjunto.
O actor, que actualmente integra o elenco da série da CBS "CSI: Cyber", colocou-se atrás das câmaras para realizar uma curta-metragem, que conta com Daniela Ruah como protagonista.
"É nisto que estamos a trabalhar para vocês. Uma história única, contada por uma equipa de apaixonados contadores de histórias", escreveu Diogo Morgado nas redes sociais, onde revelou ainda o cartaz da curta, intitulada "Excuse".
O actor Alberto Frezza também participa no projecto.
Fonte: Lux
Portuguese actors Daniela Ruah (NCIS: LA) and Diogo Morgado (The Bible; CSY:Cyber) are combining their talents to bring to life a short-film project, called "Excuse".
Very little is known about this as of this moment, except that it is being directed by Diogo himself and stars Daniela as the female lead role. Actor Alberto Frezza (Battle Force; Born to Race: Fast Track) also stars.
We´ll keep you posted as soon as any news come out 😉
Gallery Link
Home > Movies > Short-Films > 2015 > "Excuse"