DanielaRuahFans
Celebrating 11 Years Online
NCIS: LOS ANGELES
(2009/2020 • DRAMA / ACTION)
Daniela as
Kensi Marie Blye
Status: On Hiatus
Sundays 9/8c, only on CBS
Summary:
NCIS: Los Angeles is a drama about the high-stakes world of a division of NCIS that is charged with apprehending dangerous and elusive criminals, who pose a threat to the nation's security. 
More Information | IMDB | Official | Photos
A ESPIA 
(2020 • DRAMA / THRILLER)
Daniela as
Maria João Mascarenhas
Status: NO AR (Portugal)
Quartas-feiras às 21h30, na RTP1
Sinopse:
"Num país onde as luzes nunca se apagam, uma mulher da alta sociedade está disposta a tudo para salvar a sua pátria de uma invasão estrangeira". 
More Information | IMDB | Official | Photos
LUSO
(2021 • DRAMA/ACTION)
Daniela as
Maria Francisco
Summary:
A Portuguese child, abducted by slave traders, will fight in the American Revolution to win his freedom, and the right to be with the woman he loves.
Based on a true story.
More Information | IMDB | Official | Photos
Listed at:
Guia de Fansites Portugal
Celebrity Link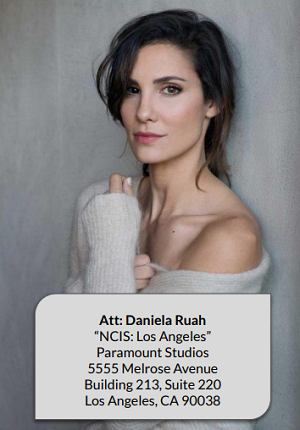 Original Launch (webs.com): September 21st, 2009
Relaunched: September 25th, 2012
Site version: 2.0
Maintained by: Ana
Hosted by: Flaunt
Designed by: Never Enough Design
Online:
Visitors:
(+298961 visitors since Sept. 21st 2009 on webs.com)
Contact: Email
January 19, 2019   admin  
Leave a Comment
Award Shows
,
Behind The Scenes
,
CBS
,
Co-Host
,
Host
,
Interviews
,
Major League Baseball
,
NFL
,
Super Bowl Greatest Commercials
,
Superbowl
,
SuperBowl Commercials
Last thursday, CBS journalist Astrid Martinez interviewed the hosts of "Super Bowl´s Greatest Commercials" at the home of this year´s Super Bowl, the Mercedes Benz Stadium.
Check the video below.
Also, be sure to bookmark THIS LINK and use the hashtags to vote on Twitter.
Vote as often as you'd like! The top two will be revealed on the show.
Watch at 8PM ET on Tuesday, Jan. 29 and use the finalists' hashtags to determine who will emerge as the winner!