DanielaRuahFans
Celebrating 11 Years Online
NCIS: LOS ANGELES
(2009/2020 • DRAMA / ACTION)
Daniela as
Kensi Marie Blye
Status: On Hiatus
Sundays 9/8c, only on CBS
Summary:
NCIS: Los Angeles is a drama about the high-stakes world of a division of NCIS that is charged with apprehending dangerous and elusive criminals, who pose a threat to the nation's security. 
More Information | IMDB | Official | Photos
A ESPIA 
(2020 • DRAMA / THRILLER)
Daniela as
Maria João Mascarenhas
Status: NO AR (Portugal)
Quartas-feiras às 21h30, na RTP1
Sinopse:
"Num país onde as luzes nunca se apagam, uma mulher da alta sociedade está disposta a tudo para salvar a sua pátria de uma invasão estrangeira". 
More Information | IMDB | Official | Photos
LUSO
(2021 • DRAMA/ACTION)
Daniela as
Maria Francisco
Summary:
A Portuguese child, abducted by slave traders, will fight in the American Revolution to win his freedom, and the right to be with the woman he loves.
Based on a true story.
More Information | IMDB | Official | Photos
Listed at:
Guia de Fansites Portugal
Celebrity Link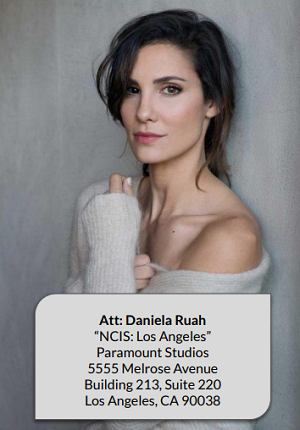 Original Launch (webs.com): September 21st, 2009
Relaunched: September 25th, 2012
Site version: 2.0
Maintained by: Ana
Hosted by: Flaunt
Designed by: Never Enough Design
Online:
Visitors:
(+298961 visitors since Sept. 21st 2009 on webs.com)
Contact: Email
The wait is finally over! CBS has announced today that "NCIS: Los Angeles" has been officially renewed for Season 11! 😀
Congrats to the cast and crew for another successful year and to the fans, who keep making the show possible.
Here´s to another amazing season! 🥂
Here´s the official press release:
CBS announced today that it has renewed NCIS: NEW ORLEANS and NCIS: LOS ANGELES for the 2019-2020 season. The pickups follow the recent renewal of the original NCIS, also for next season.

"Both shows have been key pillars to the CBS schedule for several years," said Kelly Kahl, President, CBS Entertainment. "They offer heroic stories, big stars and have attracted a passionate, loyal fan base. We're excited to have Chris, LL, Scott and these terrific casts back to bring more terrific NCIS stories to viewers in the U.S. and around the world."

NCIS: NEW ORLEANS, starring Scott Bakula, is currently in its fifth season and is averaging almost 11 million viewers each week, while winning its time slot. NCIS: LOS ANGELES, currently in its 10th season and starring Chris O'Donnell and LL COOL J, is also among the most-watched dramas on broadcast television and is Sunday's top scripted series with an average of 10.1 million viewers.

NCIS: LOS ANGELES and NCIS: NEW ORLEANS are the latest series pickups for CBS. The Network has also renewed YOUNG SHELDON, MOM, CRIMINAL MINDS, NCIS, BLUE BLOODS and the freshman hits FBI, GOD FRIENDED ME, THE NEIGHBORHOOD and MAGNUM P.I. for next season.
Source: CBS Press Express
One Response to "CBS Renews "NCIS: Los Angeles" For Season 11"