DanielaRuahFans
Celebrating 11 Years Online
NCIS: LOS ANGELES
(2009/2020 • DRAMA / ACTION)
Daniela as
Kensi Marie Blye
Status: On Hiatus
Sundays 9/8c, only on CBS
Summary:
NCIS: Los Angeles is a drama about the high-stakes world of a division of NCIS that is charged with apprehending dangerous and elusive criminals, who pose a threat to the nation's security. 
More Information | IMDB | Official | Photos
A ESPIA 
(2020 • DRAMA / THRILLER)
Daniela as
Maria João Mascarenhas
Status: NO AR (Portugal)
Quartas-feiras às 21h30, na RTP1
Sinopse:
"Num país onde as luzes nunca se apagam, uma mulher da alta sociedade está disposta a tudo para salvar a sua pátria de uma invasão estrangeira". 
More Information | IMDB | Official | Photos
LUSO
(2021 • DRAMA/ACTION)
Daniela as
Maria Francisco
Summary:
A Portuguese child, abducted by slave traders, will fight in the American Revolution to win his freedom, and the right to be with the woman he loves.
Based on a true story.
More Information | IMDB | Official | Photos
Listed at:
Guia de Fansites Portugal
Celebrity Link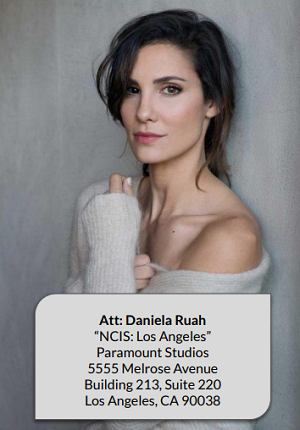 Original Launch (webs.com): September 21st, 2009
Relaunched: September 25th, 2012
Site version: 2.0
Maintained by: Ana
Hosted by: Flaunt
Designed by: Never Enough Design
Online:
Visitors:
(+298961 visitors since Sept. 21st 2009 on webs.com)
Contact: Email
Finally! The most awaited news for all fans! Season 12 is a GO! 😀
via Variety
CBS announced Wednesday that it is renewing most of its current scripted and unscripted fare for the 2020-2021 season while also canceling four shows.

The network announced renewals for the following dramas: "All Rise," "Blue Bloods," "Bull," "FBI," "FBI: Most Wanted," "MacGyver," "Magnum P.I.," "NCIS," "NCIS: Los Angeles," "NCIS: New Orleans," "SWAT," and "SEAL Team."

"Thanks to these exceptional shows, we're going to win the current season by 1 million viewers," said Kelly Kahl, president of CBS Entertainment. "Next year, we'll have these strong returning series as our foundation…and Super Bowl LV too. It's a well-balanced lineup across Entertainment, News and Sports that will put us in an incredibly stable position for 2020-2021."

With nearly all broadcast pilots forced to suspend production before filming was completed, the remaining networks will more than likely renew large swaths of their existing lineups rather than take a risk on greenlighting new shows. Several straight-to-series orders have already been handed out for next season, including "Young Rock" starring Dwayne Johnson at NBC and the "Walker, Texas Ranger" reboot starring Jared Padalecki at The CW. Beyond that, sources say the networks may pick up very few unfinished pilots to series, but exactly how many remains to be seen.