DanielaRuahFans
Celebrating 11 Years Online
Next on NCIS: Los Angeles
NCIS: LOS ANGELES
(2009/2020 • DRAMA / ACTION)
Daniela as
Kensi Marie Blye
Status: Airing Season 11
Sundays 9/8c, only on CBS
Summary:
NCIS: Los Angeles is a drama about the high-stakes world of a division of NCIS that is charged with apprehending dangerous and elusive criminals, who pose a threat to the nation's security.
More Information | IMDB | Official | Photos
A ESPIA
(2020 • DRAMA / THRILLER)
Daniela as
Maria João Mascarenhas
Premieres April 8th on RTP (Portugal)
Status: Post-Production
Sinopse:
"Num país onde as luzes nunca se apagam, uma mulher da alta sociedade está disposta a tudo para salvar a sua pátria de uma invasão estrangeira".
More Information | IMDB | Official | Photos
LUSO
(2021 • DRAMA/ACTION)
Daniela as
Maria Francisco
Summary:
A Portuguese child, abducted by slave traders, will fight in the American Revolution to win his freedom, and the right to be with the woman he loves.
Based on a true story.
More Information | IMDB | Official | Photos


Listed at:
Guia de Fansites Portugal
Celebrity Link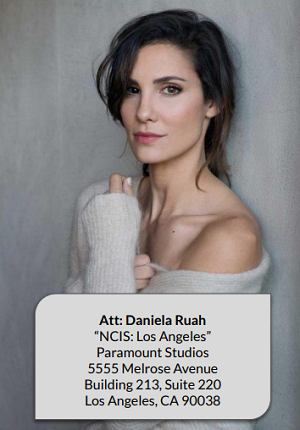 Original Launch (webs.com): September 21st, 2009
Relaunched: September 25th, 2012
Site version: 2.0
Maintained by: Ana
Hosted by: Flaunt
Designed by: Never Enough Design
Online:
Visitors:
(+298961 visitors since Sept. 21st 2009 on webs.com)
Contact: Email
Archive for the 'TAP' Category
In July 2017, Daniela Ruah and Joaquim de Almeida, the best-known Portuguese actors in the United States, were announced as TAP's new ambassadors. The two actors are starring in the airline's new advertising campaigns specially designed for the US market. The new TAP lounge and the "Portugal Stopover" programme were just the first phase of […]
---
And here´s the second promotional video for TAP Air Portugal's "STOPOVER" campaign featuring portuguese actors Joaquim de Almeida and Daniela Ruah. Learn more about this program HERE. ****** E aqui está o segundo vídeo promocional da campanha "STOPOVER" da TAP Air Portugal com os actores portugueses Joaquim de Almeida e Daniela Ruah. Saibam mais sobre […]
---
Aqui fica a versão sem legendas do primeiro video da nova campanha promocional da TAP, direccionada ao mercado norte-americano. Here is the unsubtitled version of the first video of the new promotional campaign of TAP, targeting the North American market. TAP // Lounge from Stopline Films on Vimeo. Client: TAP Production Co.: Stopline Director: Leonel […]
---
Daniela Ruah e Joaquim de Almeida não são apenas dois atores portugueses. São também os mais internacionais e os Estados Unidos são a sua casa. Uma razão mais do que justa para a TAP os ter escolhido para serem os embaixadores da conhecida companhia aérea portuguesa nos Estados Unidos da América. A Lux esteve nas […]
---
Actores portugueses têm grande visibilidade nos EUA e vão protagonizar as próximas campanhas da companhia aérea. click to zoom / clicar para aumentar Daniela Ruah e Joaquim de Almeida, os actores portugueses com mais projecção no mercado norte-americano, são os novos embaixadores da TAP e protagonizam as novas campanhas da companhia, especialmente dirigidas ao mercado […]
---
A TAP Portugal acaba de revelar um pouco mais sobre a sua nova campanha: um novo Lounge para passageiros premium, para que se sintam em casa antes de descolar (ou, como dizem os responsáveis da campanha: a melhor experiência antes do voo ?) O novo Lounge da TAP foi projectado para oferecer o máximo de […]
---
DANiELA RUAH, nova embaixadora da TAP from Up Inflight Mag on Vimeo. DANiELA RUAH, TAP's new ambassador from Up Inflight Mag on Vimeo.
---
São os actores portugueses mais internacionais do momento e esta era a colaboração que faltava. Daniela Ruah (NCIS: LA) e Joaquim de Almeida (Queen of South) juntam finalmente os seus talentos para participar na nova campanha publicitária da TAP, intitulada "The Lounge". O realizador Leonel Vieira partilhou hoje a notícia com os seus seguidores na […]
---