DanielaRuahFans
Celebrating 11 Years Online
NCIS: LOS ANGELES
(2009/2020 • DRAMA / ACTION)
Daniela as
Kensi Marie Blye
Status: On Hiatus
Sundays 9/8c, only on CBS
Summary:
NCIS: Los Angeles is a drama about the high-stakes world of a division of NCIS that is charged with apprehending dangerous and elusive criminals, who pose a threat to the nation's security. 
More Information | IMDB | Official | Photos
A ESPIA 
(2020 • DRAMA / THRILLER)
Daniela as
Maria João Mascarenhas
Status: NO AR (Portugal)
Quartas-feiras às 21h30, na RTP1
Sinopse:
"Num país onde as luzes nunca se apagam, uma mulher da alta sociedade está disposta a tudo para salvar a sua pátria de uma invasão estrangeira". 
More Information | IMDB | Official | Photos
LUSO
(2021 • DRAMA/ACTION)
Daniela as
Maria Francisco
Summary:
A Portuguese child, abducted by slave traders, will fight in the American Revolution to win his freedom, and the right to be with the woman he loves.
Based on a true story.
More Information | IMDB | Official | Photos
Listed at:
Guia de Fansites Portugal
Celebrity Link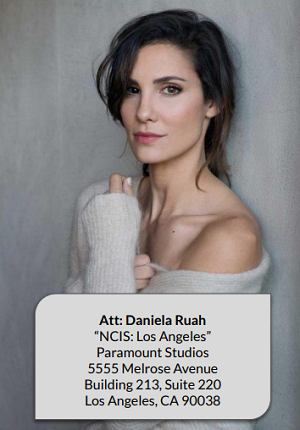 Original Launch (webs.com): September 21st, 2009
Relaunched: September 25th, 2012
Site version: 2.0
Maintained by: Ana
Hosted by: Flaunt
Designed by: Never Enough Design
Online:
Visitors:
(+298961 visitors since Sept. 21st 2009 on webs.com)
Contact: Email
Archive for the 'Spoilers' Category
The exclusive content just keeps pouring in online! 😉 This time, ET Canada brings us another featurette from their exclusive set visit of 'NCIS: Los Angeles', ahead of Kensi and Deeks' wedding episode airing 9 p.m. Sunday on CBS. ***NOTE: if the video is unavailable for you it's because you are using ad-blocking software. Please […]
---
"Densi" fans will finally get what they wished for later this season 😉 It seems like ages since Kensi (Daniela Ruah) proposed to Deeks (Eric Christian Olsen) on NCIS: LA. Will a wedding ever happen? Will Densi — their official shipper name — get the happily ever after they so richly deserve? EW is […]
---
TVLINE has just released the first official Promotional Still for #NCISLA´s Season 10 Premiere, plus an episode synopsis! We will soon have the official press release, so stay tuned for that 😉 Any teasers for this upcoming Season 10 of NCIS: Los Angeles? —Tony They say a picture is worth 1,000 teasers. Or something. So… […]
---
By PAULETTE COHN When NCIS: Los Angeles returns, Hetty (Linda Hunt) is being held hostage in Vietnam and is in danger of being auctioned off to the highest bidder, enemies of the U.S. who want to pick her brain for all the knowledge she has accumulated in her years as an agent. It is looking […]
---
*SPOILER ALERT* Watch as Eric Christian Olsen and Daniela Ruah give their thoughts on Deeks and Kensi's emotional engagement in the Season 8 finale of NCIS: Los Angeles.
---
Is there any word on whether the NCIS: LA finale this year will have a cliffhanger? —Dee Sure sounds like it! "Oh my gosh, people will be floored. I'm not kidding," Daniela Ruah, who plays Kensi, shared with me. "We've had edge-of-your-seat moments before, but this is a real big one — and it's not […]
---
'NCIS: Los Angeles' star Daniela Ruah goes back to her 'Dancing With the Stars' roots on Sunday's episode of 'NCIS: Los Angeles.' Dancing Takes Center Stage on the Set of 'NCIS… por DanielaRuahFans Source: The Insider
---
Now that she's back in action fulltime, NCIS Special Agent Kensi Blye (Daniela Ruah) goes undercover as a professional dancer on the "From Havana with Love" episode of NCIS: Los Angeles, airing this Sunday. For those who may not know, Ruah competed on and won Dança Comigo (the Portuguese version of Dancing with the Stars), […]
---