DanielaRuahFans
Celebrating 11 Years Online
NCIS: LOS ANGELES
(2009/2020 • DRAMA / ACTION)
Daniela as
Kensi Marie Blye
Status: On Hiatus
Sundays 9/8c, only on CBS
Summary:
NCIS: Los Angeles is a drama about the high-stakes world of a division of NCIS that is charged with apprehending dangerous and elusive criminals, who pose a threat to the nation's security. 
More Information | IMDB | Official | Photos
A ESPIA 
(2020 • DRAMA / THRILLER)
Daniela as
Maria João Mascarenhas
Status: NO AR (Portugal)
Quartas-feiras às 21h30, na RTP1
Sinopse:
"Num país onde as luzes nunca se apagam, uma mulher da alta sociedade está disposta a tudo para salvar a sua pátria de uma invasão estrangeira". 
More Information | IMDB | Official | Photos
LUSO
(2021 • DRAMA/ACTION)
Daniela as
Maria Francisco
Summary:
A Portuguese child, abducted by slave traders, will fight in the American Revolution to win his freedom, and the right to be with the woman he loves.
Based on a true story.
More Information | IMDB | Official | Photos
Listed at:
Guia de Fansites Portugal
Celebrity Link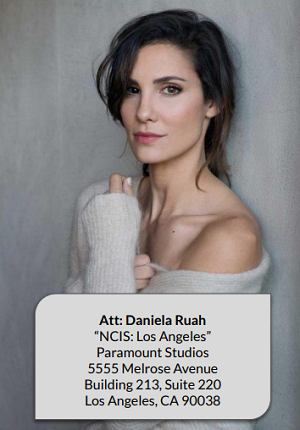 Original Launch (webs.com): September 21st, 2009
Relaunched: September 25th, 2012
Site version: 2.0
Maintained by: Ana
Hosted by: Flaunt
Designed by: Never Enough Design
Online:
Visitors:
(+298961 visitors since Sept. 21st 2009 on webs.com)
Contact: Email
Archive for the 'Interviews' Category
Daniela Ruah cumple su sueño de acción La protagonista de NCIS: Los Ángeles se dice orgullosa de que las mujeres cada día tengan roles más poderosos. Desde pequeña, la actriz Daniela Ruah ha tenido una fascinación por el mundo de los dobles o stunts. Con su papá, amante de las películas de acción, solía ver […]
---
Daniela Ruah foi a estrela da edição 2019 de inverno da revista de moda portuguesa "Turbilhão". Confiram o vídeo de making-of e todas as fotos no link da galeria, abaixo. Leiam a entrevista na íntegra AQUI. Daniela Ruah was the star of the 2019 winter edition of portuguese fashion magazine "Turbilhão". Check the making-of video […]
---
Jaime Camil is bringing a little happiness into our lives with his new CBS comedy, Broke, AND with his new digital series, Jaime's Happy Hour. For the inaugural episode, NCIS: Los Angeles star Daniela Ruah joins from her backyard to share a few stories and laughs about family, work, and salsa! Tune in for more […]
---
Esta quarta-feira estreia o 2⁰ episódio da série "A Espia" com produção da Ukbar Filmes. O realizador Jorge Paixão da Costa e os actores Maria João Bastos, Daniela Ruah e Diogo Morgado revelam-nos um pouco mais desta série de espionagem.
---
FONTE: PÚBLICO Texto: Joana Amaral Cardoso 9 de Abril de 2020 "Interpreto mulheres com força, nem que seja mental": estrela de série americana de massas, a actriz volta à ficção portuguesa com uma história que evoca a sua memória familiar da II Guerra. Uma conversa que contrasta a escola Lee Strasberg e a escola das […]
---
Foi hoje lançada uma nova entrevista com Daniela Ruah, desta vez para o podcast do "Expresso" A Beleza das Pequenas Coisas. Ouçam, abaixo, a entrevista completa. ___________________ Portuguese newspaper "Expresso" just released a new podcast interview with Daniela Ruah. I will attempt to make a little summary of the most important things: In this new […]
---
Em Outubro de 2019, Daniela Ruah foi convidada para uma entrevista do podcast do jornal "Observador" Conversas de Fim de Tarde. Cliquem na imagem abaixo e ouçam a entrevista completa. __________________ Back in October 2019, Daniela Ruah did a podcast interview for the portuguese newspaper "Observador". During this interview she addressed the political environment nowadays […]
---
Na semana passada, a nova série de TV portuguesa "A Espia" foi apresentada ao público. Dada a quarentena obrigatória, não houve lugar a entrevistas de imprensa. Por isso, as coisas foram diferentes desta vez. Vejam todos os vídeos, abaixo. "A Espia" estreia já esta quarta-feira, 8 de abril às 21:00, apenas na RTP. _____________________ Last […]
---