DanielaRuahFans
Celebrating 11 Years Online
NCIS: LOS ANGELES
(2009/2020 • DRAMA / ACTION)
Daniela as
Kensi Marie Blye
Status: On Hiatus
Sundays 9/8c, only on CBS
Summary:
NCIS: Los Angeles is a drama about the high-stakes world of a division of NCIS that is charged with apprehending dangerous and elusive criminals, who pose a threat to the nation's security. 
More Information | IMDB | Official | Photos
A ESPIA 
(2020 • DRAMA / THRILLER)
Daniela as
Maria João Mascarenhas
Status: NO AR (Portugal)
Quartas-feiras às 21h30, na RTP1
Sinopse:
"Num país onde as luzes nunca se apagam, uma mulher da alta sociedade está disposta a tudo para salvar a sua pátria de uma invasão estrangeira". 
More Information | IMDB | Official | Photos
LUSO
(2021 • DRAMA/ACTION)
Daniela as
Maria Francisco
Summary:
A Portuguese child, abducted by slave traders, will fight in the American Revolution to win his freedom, and the right to be with the woman he loves.
Based on a true story.
More Information | IMDB | Official | Photos
Listed at:
Guia de Fansites Portugal
Celebrity Link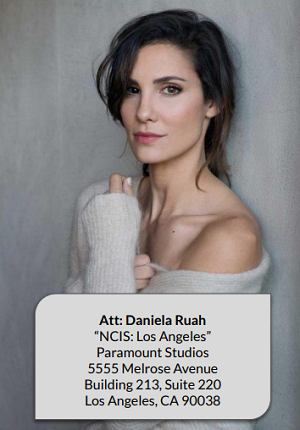 Original Launch (webs.com): September 21st, 2009
Relaunched: September 25th, 2012
Site version: 2.0
Maintained by: Ana
Hosted by: Flaunt
Designed by: Never Enough Design
Online:
Visitors:
(+298961 visitors since Sept. 21st 2009 on webs.com)
Contact: Email
Archive for the 'Eurovision 2018' Category
A RTP vai presentear os aficionados do Festival Eurovisão da Canção com um documentário sobre os bastidores da edição que decorreu em Lisboa. "All aboard! – Dentro da Eurovisão 2018", da autoria de Nuno Galopim e Miguel Pimenta, vai ser transmitido nos dias 27 e 28 de Dezembro às 21h00, logo a seguir ao Telejornal. […]
---
Watch all the funny moments and bloopers you didn't get to see at the live broadcasts of Eurovision Song Contest 2018. The video was re-edited to show the best moments with our lovely Daniela Ruah. You can watch the original HERE 😉 Eurovision 2018 – Bloopers And Outtakes With Daniela Ruah (Behind The Scenes) from […]
---
Em 2018, o Festival Eurovisão da Canção aterrou em Lisboa. A Vogue esteve com Catarina Furtado e Daniela Ruah, duas das quatro apresentadoras da noite de todos os fogos de artifício, para falar de quanto o maior luxo de todos é ser humano. MAKING-OF Uma entrevista – acompanhada de um surpreendente editorial com a dupla […]
---
I have finally updated this post with some photos and videos that I took while attending the Grand Final Family Show. Check all the photos at the gallery link and the video compilation from the show at the video below. Apologies for the shaky video image in advance 😉 The Eurovision Song Contest 2018 is […]
---
Wow, that was exciting! The second Semi-Final of the 2018 Eurovision Song Contest has come to an end and ten more countries have qualified for Saturday's Grand Final. For this 2nd show Daniela Ruah chose to wear a wavy red dress and red shoes by portuguese designers Luís Carvalho and Luís Onofre, respectively. Talk about […]
---
Rui Maria Pêgo entrevistou Filomena Cautela e Daniela Ruah no dia seguinte à primeira final. O teste da primeira semifinal e as apresentadoras passaram com excelência.
---
That is it for the first Semi-Final of the 2018 Eurovision Song Contest! Ten countries have qualified for the Grand Final, which takes place this Saturday, the 12th of May. As one of the four hosts, Daniela Ruah shined bright like a diamond in a jumpsuit by portuguese designer Carlos Gil! Check all the photos […]
---
This afternoon the four Eurovision Hosts Daniela Ruah, Catarina Furtado, Sílvia Alberto and Filomena Cautela walked the Blue Carpet at the opening ceremony for Eurovision 2018. Check all the photos at the gallery link and all the video interviews below. We will keep updating this post with more photos and videos, so stay tuned! 😉 […]
---