DanielaRuahFans
Celebrating 11 Years Online
Next on NCIS: Los Angeles
NCIS: LOS ANGELES
(2009/2020 • DRAMA / ACTION)
Daniela as
Kensi Marie Blye
Status: Airing Season 11
Sundays 9/8c, only on CBS
Summary:
NCIS: Los Angeles is a drama about the high-stakes world of a division of NCIS that is charged with apprehending dangerous and elusive criminals, who pose a threat to the nation's security. 
More Information | IMDB | Official | Photos
A ESPIA
(2020 • DRAMA / THRILLER)
Daniela as
Maria João Mascarenhas
Premieres April 8th on RTP (Portugal)
Status: Post-Production
Sinopse:
"Num país onde as luzes nunca se apagam, uma mulher da alta sociedade está disposta a tudo para salvar a sua pátria de uma invasão estrangeira". 
More Information | IMDB | Official | Photos
LUSO
(2021 • DRAMA/ACTION)
Daniela as
Maria Francisco
Summary:
A Portuguese child, abducted by slave traders, will fight in the American Revolution to win his freedom, and the right to be with the woman he loves.
Based on a true story.
More Information | IMDB | Official | Photos


Listed at:
Guia de Fansites Portugal
Celebrity Link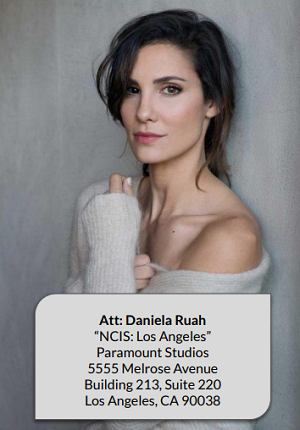 Original Launch (webs.com): September 21st, 2009
Relaunched: September 25th, 2012
Site version: 2.0
Maintained by: Ana
Hosted by: Flaunt
Designed by: Never Enough Design
Online:
Visitors:
(+298961 visitors since Sept. 21st 2009 on webs.com)
Contact: Email
Archive for the 'daniela ruah' Category
Making a short interruption on our hiatus to mark Dani´s 36th birthday today. May you have the greatest day of all sweet Daniela, filled with joy, laughter and lots lots of love! Your fans wish to celebrate this day with you for MANY years to come. HAPPY BIRTHDAY!!! 🥳 click to zoom Fazemos hoje uma […]
---
Foram anunciados esta noite no "Jornal da Noite" os 75 nomeados para a 24ª edição dos Globos de Ouro, que este ano se realizam a 29 de Setembro, apresentados pela primeira vez por Cristina Ferreira. Daniela Ruah faz parte do rol de 5 personalidades que mais se destacaram na área do entretenimento. Muitos parabéns Daniela! […]
---
Reportagem exclusiva do programa "Janela Indiscreta" sobre as filmagens da nova série da RTP, "A Espia", com Daniela Ruah, Diogo Morgado e Maria João Bastos nos principais papéis. A estreia está prevista para início de 2020.
---
Here are the 3 last appearances of Daniela Ruah on portuguese television, with english subtitles. Enjoy! 😉 "Kids In Charge" – June 8, 2019 "Faz Faísca" – June 16, 2019 "Faz Faísca" – June 23, 2019
---
A Revista SEXTA da semana passada (complemento da TV Guia) trazia um pequeno artigo sobre o regresso de Daniela Ruah à televisão portuguesa com a nova série da RTP, "A Espia", que deverá ir para o ar no início de 2020. Leiam, abaixo, o artigo completo no link da galeria. GALLERY LINK: Magazine & Newspapers […]
---
Daniela Ruah, Maria João Bastos e Diogo Morgado são os protagonistas de "A Espia", a nova série da RTP que, esta sexta-feira, fez uma rodagem no Ateneu Comercial do Porto. A estreia está prevista para janeiro de 2020. Vejam todas as fotos no link da galeria, abaixo: GALLERY LINK: Mini Series "A Espia"/"Twenty-Four Land" > […]
---
O site Porto. foi "espiar" as filmagens de Daniela Ruah, Maria João Bastos e Diogo Morgado para a nova série da RTP, "A Espia", que decorreram na passada 6ª feira, Junho 21, no "Ateneu Comercial do Porto". Vejam, abaixo, todas as fotos no link da galeria. Foto: Miguel Nogueira The website Porto. "spied" on the […]
---
A confirmar-se desejo da estação pública, a série poderá ser adquirida pela Netflix, HBO ou Amazon. "Estrela em Hollywood, Daniela Ruah gostava de juntar ao seu currículo a hipótese de ser pioneira numa série online" Daniela Ruah está entusiasmada com a possibilidade de a série 'A Espia', na qual é protagonista, poder fazer história na […]
---