DanielaRuahFans
Celebrating 11 Years Online
NCIS: LOS ANGELES
(2009/2020 • DRAMA / ACTION)
Daniela as
Kensi Marie Blye
Status: On Hiatus
Sundays 9/8c, only on CBS
Summary:
NCIS: Los Angeles is a drama about the high-stakes world of a division of NCIS that is charged with apprehending dangerous and elusive criminals, who pose a threat to the nation's security. 
More Information | IMDB | Official | Photos
A ESPIA 
(2020 • DRAMA / THRILLER)
Daniela as
Maria João Mascarenhas
Status: NO AR (Portugal)
Quartas-feiras às 21h30, na RTP1
Sinopse:
"Num país onde as luzes nunca se apagam, uma mulher da alta sociedade está disposta a tudo para salvar a sua pátria de uma invasão estrangeira". 
More Information | IMDB | Official | Photos
LUSO
(2021 • DRAMA/ACTION)
Daniela as
Maria Francisco
Summary:
A Portuguese child, abducted by slave traders, will fight in the American Revolution to win his freedom, and the right to be with the woman he loves.
Based on a true story.
More Information | IMDB | Official | Photos
Listed at:
Guia de Fansites Portugal
Celebrity Link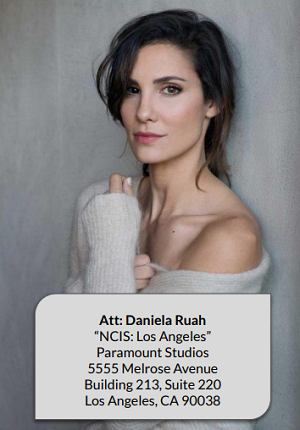 Original Launch (webs.com): September 21st, 2009
Relaunched: September 25th, 2012
Site version: 2.0
Maintained by: Ana
Hosted by: Flaunt
Designed by: Never Enough Design
Online:
Visitors:
(+298961 visitors since Sept. 21st 2009 on webs.com)
Contact: Email
Archive for the 'Benefits' Category
During a Facebook Live today, Daniela Ruah presented her new partnership with FabFitFun, a beauty, wellness, fitness and fashion company, dedicated to raising money for women fighting breast cancer. Products offered for sale at www.fabfitfun.com are for sale only in the United States and Canada and all prices are quoted in U.S. dollars. Check all […]
---
Daniela Ruah and Eric Christian Olsen invite you to hang with them in Los Angeles and get all your "NCIS: LA" burning questions answered. Get to know the real Kensi and Deeks and ENTER NOW at: omaze.com/ncisla You and a friend could be flown to LA to have lunch with "NCIS: LA" co-stars, Daniela Ruah […]
---
Later last year SFAC Brand Ambassador, actress Daniela Ruah, announced the next "Shopping for a Change" community improvement project: Hope Through Education, Project Haiti. Learn more about this special project by watching the video below and paying a visit to THIS LINK. Note: Unfortunately, it seems the campaign has already ended for the year of […]
---
Join Daniela Ruah as she visits the Sephardic Educational Center office and talks to Rabbi Bouskila about everything we've been up to for the past year…
---
See if you can spot Daniela. Vejam se conseguem detectar a Daniela 😉
---
Catarina Furtado, fundadora da associação Corações com Coroa, e Luísa Rosas, designer de joias, apresentam-nos o seu projecto solidário Flying Seeds e a sua parceria nesta campanha pela igualdade de género. Segundo Catarina, esta colecção "significa duas coisas: espalhar a consciência de que é difícil endireitar o mundo, mas todos temos responsabilidades nisso. Por outro […]
---
*MUST READ* ??? New Interview with Shopping for a Change´s brand ambassador Daniela Ruah. At Shopping for a Change, we're all about empowering people around the world through fair trade, paying fair wages, to help artisans provide for their families and grow their communities. The same is true of Daniela Ruah. You may know her […]
---
Daniela Ruah presents the United States Holocaust Memorial Museum honored guest, World War II U.S. Army Veteran and camp liberator, Al Fabulich. We will try to find a better quality video soon.
---