DanielaRuahFans
Celebrating 11 Years Online
NCIS: LOS ANGELES
(2009/2020 • DRAMA / ACTION)
Daniela as
Kensi Marie Blye
Status: On Hiatus
Sundays 9/8c, only on CBS
Summary:
NCIS: Los Angeles is a drama about the high-stakes world of a division of NCIS that is charged with apprehending dangerous and elusive criminals, who pose a threat to the nation's security. 
More Information | IMDB | Official | Photos
A ESPIA 
(2020 • DRAMA / THRILLER)
Daniela as
Maria João Mascarenhas
Status: NO AR (Portugal)
Quartas-feiras às 21h30, na RTP1
Sinopse:
"Num país onde as luzes nunca se apagam, uma mulher da alta sociedade está disposta a tudo para salvar a sua pátria de uma invasão estrangeira". 
More Information | IMDB | Official | Photos
LUSO
(2021 • DRAMA/ACTION)
Daniela as
Maria Francisco
Summary:
A Portuguese child, abducted by slave traders, will fight in the American Revolution to win his freedom, and the right to be with the woman he loves.
Based on a true story.
More Information | IMDB | Official | Photos
Listed at:
Guia de Fansites Portugal
Celebrity Link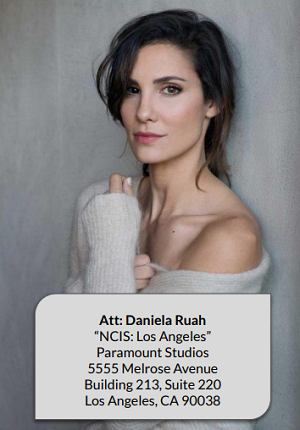 Original Launch (webs.com): September 21st, 2009
Relaunched: September 25th, 2012
Site version: 2.0
Maintained by: Ana
Hosted by: Flaunt
Designed by: Never Enough Design
Online:
Visitors:
(+298961 visitors since Sept. 21st 2009 on webs.com)
Contact: Email
Archive for the 'a espia' Category
Um documentário sonoro de Sofia Saldanha, uma reportagem da jornalista Mafalda Gameiro e a série de ficção "A Espia" são candidatos aos Prix Europa (Prémios Europa), que distinguem a produção europeia de televisão, rádio e Internet. De acordo com o Conselho da Europa, que atribui os prémios, este ano foram selecionadas mais de 200 obras […]
---
Os sites de entretenimento "Séries da TV" e "ComUM" publicaram as primeiras críticas da 1ª temporada da série original da RTP "A Espia", protagonizada por Daniela Ruah, Diogo Morgado e Maria João Bastos. Leiam os artigos completos AQUI e AQUI. A Espia é assim, apesar das imperfeições, uma grande produção nacional merecedora de toda a […]
---
Esta quarta-feira estreia o 2⁰ episódio da série "A Espia" com produção da Ukbar Filmes. O realizador Jorge Paixão da Costa e os actores Maria João Bastos, Daniela Ruah e Diogo Morgado revelam-nos um pouco mais desta série de espionagem.
---
FONTE: PÚBLICO Texto: Joana Amaral Cardoso 9 de Abril de 2020 "Interpreto mulheres com força, nem que seja mental": estrela de série americana de massas, a actriz volta à ficção portuguesa com uma história que evoca a sua memória familiar da II Guerra. Uma conversa que contrasta a escola Lee Strasberg e a escola das […]
---
Foi hoje lançada uma nova entrevista com Daniela Ruah, desta vez para o podcast do "Expresso" A Beleza das Pequenas Coisas. Ouçam, abaixo, a entrevista completa. ___________________ Portuguese newspaper "Expresso" just released a new podcast interview with Daniela Ruah. I will attempt to make a little summary of the most important things: In this new […]
---
Na semana passada, a nova série de TV portuguesa "A Espia" foi apresentada ao público. Dada a quarentena obrigatória, não houve lugar a entrevistas de imprensa. Por isso, as coisas foram diferentes desta vez. Vejam todos os vídeos, abaixo. "A Espia" estreia já esta quarta-feira, 8 de abril às 21:00, apenas na RTP. _____________________ Last […]
---
Confiram todas as fotos de bastidores e imagens promocionais da nova série da RTP, "A Espia", no link da galeria, abaixo. ________ Check all the behind the scenes and promotional photos from RTP´s new series "24 Land", at the gallery link below. GALLERY LINKS: Portuguese TV > Mini Series "A Espia"/"Twenty-Four Land" > Promotional Stills […]
---
"A Espia" é a nova série de ficção histórica da RTP1, que nos traz uma história de espionagem, romance e sedução passada em Portugal e na Galiza durante a 2ª Guerra Mundial. Estreia a 8 de abril, pelas 21h00, na RTP1. Com realização de Jorge Paixão da Costa, reúne no seu elenco nomes como: Daniela […]
---