DanielaRuahFans
Celebrating 11 Years Online
NCIS: LOS ANGELES
(2009/2020 • DRAMA / ACTION)
Daniela as
Kensi Marie Blye
Status: On Hiatus
Sundays 9/8c, only on CBS
Summary:
NCIS: Los Angeles is a drama about the high-stakes world of a division of NCIS that is charged with apprehending dangerous and elusive criminals, who pose a threat to the nation's security. 
More Information | IMDB | Official | Photos
A ESPIA 
(2020 • DRAMA / THRILLER)
Daniela as
Maria João Mascarenhas
Status: NO AR (Portugal)
Quartas-feiras às 21h30, na RTP1
Sinopse:
"Num país onde as luzes nunca se apagam, uma mulher da alta sociedade está disposta a tudo para salvar a sua pátria de uma invasão estrangeira". 
More Information | IMDB | Official | Photos
LUSO
(2021 • DRAMA/ACTION)
Daniela as
Maria Francisco
Summary:
A Portuguese child, abducted by slave traders, will fight in the American Revolution to win his freedom, and the right to be with the woman he loves.
Based on a true story.
More Information | IMDB | Official | Photos
Listed at:
Guia de Fansites Portugal
Celebrity Link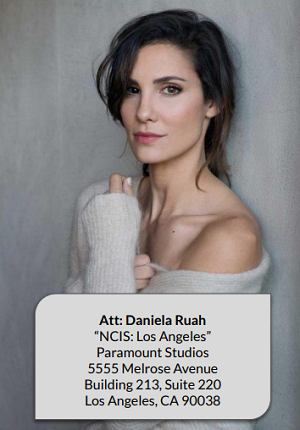 Original Launch (webs.com): September 21st, 2009
Relaunched: September 25th, 2012
Site version: 2.0
Maintained by: Ana
Hosted by: Flaunt
Designed by: Never Enough Design
Online:
Visitors:
(+298961 visitors since Sept. 21st 2009 on webs.com)
Contact: Email
Para mostrar, mais uma vez, que as mulheres não são o sexo fraco, várias celebridades de Hollywood participaram numa luta virtual que resultou num vídeo que tem divertido os fãs (uma ideia da actriz e dupla Zoë Bell).
Lucy Lawless, Cameron Diaz, Rosario Dawson, Halle Berry, Margot Robbie e Zoe Saldana são algumas das estrelas de Hollywood que foram desafiadas por Zoë Bell para uma luta virtual, que resultou num hilariante vídeo em que exibem as suas facetas de 'duronas'. De entre o leque de celebridades, encontra-se também a "nossa" Daniela Ruah.
O resultado final, intitulado de 'Boss Bitch Fight Challenge', foi publicado no canal de YouTube de Zoë Bell esta sexta-feira.
A atriz Daniela Ruah sentiu-se "honrada" por ter feito parte deste desafio. A atriz partilhou o registo, no Instagram, e, na descrição, mostrou-se "honrada por estar ao lado de todas estas fantásticas, talentosas, fortes e lindas mulheres".
Vejam o vídeo completo, abaixo.
______________________
To show, once again, that women are not the weaker sex, several Hollywood celebrities participated in a virtual fight that resulted in a video that has amused fans (an idea of ​ actress and stuntwoman Zoë Bell).
Lucy Lawless, Cameron Diaz, Rosario Dawson, Halle Berry, Margot Robbie and Zoe Saldana are some of the Hollywood stars who were challenged by Zoë Bell to a virtual fight, which resulted in a hilarious video in which they show off their 'bad assness'. Among the range of celebrities, there is also Daniela Ruah.
The final result, titled 'Boss Bitch Fight Challenge', was posted on Zoë Bell's YouTube channel this Friday.
Daniela shared the video on Instagram and, in the description, she said she was "honored to be with all these fantastic, talented, strong and beautiful women".
See the full video, below.