DanielaRuahFans
Celebrating 11 Years Online
NCIS: LOS ANGELES
(2009/2020 • DRAMA / ACTION)
Daniela as
Kensi Marie Blye
Status: On Hiatus
Sundays 9/8c, only on CBS
Summary:
NCIS: Los Angeles is a drama about the high-stakes world of a division of NCIS that is charged with apprehending dangerous and elusive criminals, who pose a threat to the nation's security. 
More Information | IMDB | Official | Photos
A ESPIA 
(2020 • DRAMA / THRILLER)
Daniela as
Maria João Mascarenhas
Status: NO AR (Portugal)
Quartas-feiras às 21h30, na RTP1
Sinopse:
"Num país onde as luzes nunca se apagam, uma mulher da alta sociedade está disposta a tudo para salvar a sua pátria de uma invasão estrangeira". 
More Information | IMDB | Official | Photos
LUSO
(2021 • DRAMA/ACTION)
Daniela as
Maria Francisco
Summary:
A Portuguese child, abducted by slave traders, will fight in the American Revolution to win his freedom, and the right to be with the woman he loves.
Based on a true story.
More Information | IMDB | Official | Photos
Listed at:
Guia de Fansites Portugal
Celebrity Link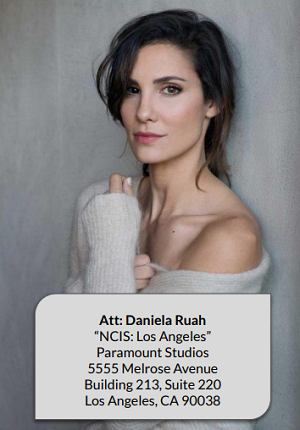 Original Launch (webs.com): September 21st, 2009
Relaunched: September 25th, 2012
Site version: 2.0
Maintained by: Ana
Hosted by: Flaunt
Designed by: Never Enough Design
Online:
Visitors:
(+298961 visitors since Sept. 21st 2009 on webs.com)
Contact: Email
Daniela Ruah tem um novo projecto televisivo! A actriz portuguesa vai liderar o elenco da nova mini-série da RTP, "A Espia", uma série de ficção histórica de oito episódios, passada na Península Ibérica durante a 2ª Guerra Mundial. As filmagens irão decorrer entre Maio e Julho deste ano.
Daniela Ruah has a new tv project! The Portuguese actress will star on RTP's new mini-series, "Twenty-Four Land", a series of eight-episode historical fiction, set in the Iberian Peninsula during World War II. Filming will take place between May and July this year.
Cliquem na imagem abaixo para saber mais sobre este projecto.
Click the image below to learn more about this project.
A ESPIA / TWENTY FOUR LAND

Imagem não oficial
A Espia (Twenty-Four Land, em inglês) vai ser apresentada hoje no Drama Producers' Pitch. O evento decorre em Cannes e está inserido no Cannes Drama Creative Forum. Trata-se da primeira vez que uma série portuguesa é escolhida para participar.

A produção nacional passa-se na Península Ibérica, durante a Segunda Guerra Mundial. A ficção histórica fala sobre um país neutro que vai, cidadão a cidadão, escolhendo o seu lado no conflito. Apesar de ainda não estar a ser filmada, A Espia vai ser constituída por oito episódios e um elenco de luxo: Daniela Ruah e Maria João Bastos são nomes já confirmados. A rodagem começa entre maio e julho de 2019.

A série tem realização de Jorge Paixão da Costa, conhecido, mais recentemente, pelo filme Soldado Milhões. Produzida pela Ukbar Filmes em conjunto com a RTP, A Espia foi escolhida entre 376 projetos submetidos por 41 países. Ao participar no Drama Producers' Pitch, a produção tem a oportunidade de ganhar financiamento, ajuda na produção e distribuição internacional.
Fonte: Espalha-Factos